Today's markets are competitive and dynamic
There is data overload, and many businesses struggle to define a prioritization of data points and how best to apply them.


Your own internal data is vital in evaluating and managing your performance - but it's just one part of the picture. Only 360-degree connected insights can answer the key business questions to drive your success, such as:
What is my market position?
Am I appealing to my target consumer?
Is my pricing optimized across channels and categories?
Is my brand and product assortment positioned correctly?
What is the future demand for my sector?
Become a member of our Data Partners Program today
It's imperative to measure the health of your business and take evidence-based decisions, so it's time to act. With a history dating back to 1934, GfK's Partners Program is the trusted source for comprehensive, unbiased market and consumer insights. Regardless of your business type, size and geographical reach, your data will always be anonymized and protected by the most rigorous standards. Your competitors are almost certainly benefiting from GfK's Data Partners Program. Isn't it time you were too?
Market data from some of the world's biggest sales panels
130,000
partners trust their data with GfK
$1.16 trillion
sales monitored
In a world that is rapidly changing, we cannot rely any longer only on sensations and visions. Each decision should be based and supported by concreteness, and only facts, numbers can give us evidence. GfK is undoubtedly the most reliable partner to help us face this journey. We are widening our analysis spectrum and at the same time sharpening more and more our analysis tools and all these aspects allow us to increase our relevance.

Stefano Polla,

Commercial Director, Italy

The study conducted by GfK, in order to help us understand better the global market of sport goods in Romania included different approaches from the studies we have done in the past and was well adapted to the customer journey and buying habits of the sporting goods customers.

The insights, data and conclusions of the study have strongly helped us discover important topics to improve and provided a clear "validation" of the strategies we wanted to put in place in order to be able to better satisfy our customers.

Cezar Nicolaescu,

Marketing Director, Romania

In today's fast-changing world, each decision must be supported by facts & evidence. GfK is a reliable partner to help us face this journey.

Stefanio Polla,

Director Consumables, Italy and Spain

The market is moving more rapidly than ever. Making a decision with evidence based data is indispensable. GfK is a reliable partner to support us on this journey. Working with the advanced data solutions provided by GfK enables us to follow up on performances and adapt quickly. The expert level of consultancy brings additional insights to the data and makes the number speak.

Simon De Wasseige,

Head of Solution, Belgium

We had a complex and ambitious goal to better understand who our customers are on the one hand and to analyze the reasons for their buying behavior on the other. The Bureau Vallée GfK Customer Study allowed us to respond and see more clearly in a very changing market environment.

Caroline Dupoizat,

Director Client Marketing | CRM & Digital Communication | Retail & FMCG, France
Benefits for large retail organizations
Context for investor relations
Our unbiased and trusted data gives weight to public statements and supports investor queries
C-suite decision making
Our experts bring global and local insights so you can take key decisions with confidence
Supporting your business units
Embrace data democratization - leverage intelligence across teams and regions
Benefits for independent retailers
Understand market dynamics
Identify the key trends and top selling items for your sector and channel
Drive profitable sales
Calculate accurate margins with pricing intelligence
Insights on demand
Make fact-based decisions with our user-friendly reports
Data that empowers your entire organization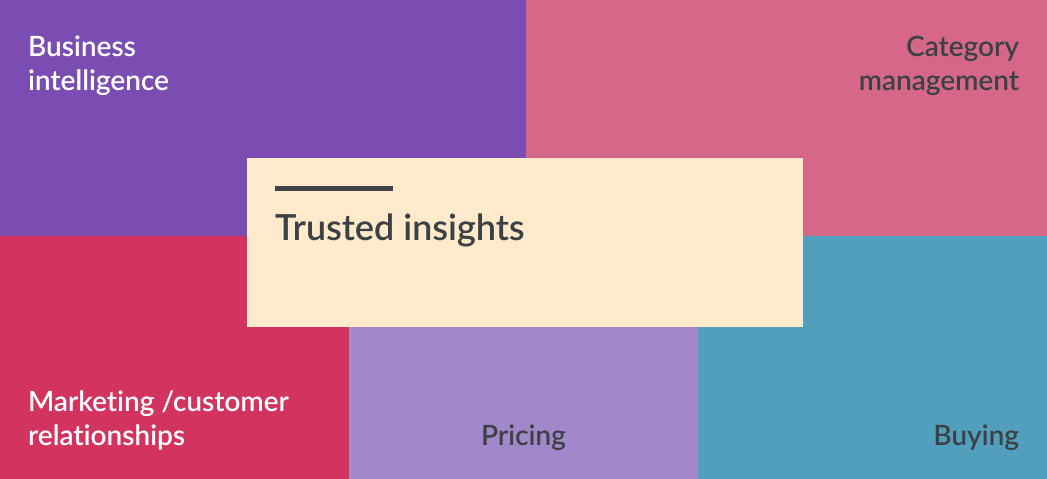 featured product
gfk

newron for Retail
Turn market disruption into profitability. Get robust, easy-to-understand retail intelligence from an always-on, single point of truth, so that you can make tomorrow's big decisions, today. 
Learn more
featured service
gfk

consult
Craft winning market, consumer, and brand strategies. With gfkconsult's team of industry experts and creative thinkers, retailers can best interpret the signals in the noise to make bold, disruptive decisions.
Learn more
Get customized insights to drive your growth strategies
Market and consumer insights based on geography
Market entry packages
Demand planning
Consultancy
Unique article catalogue
Bespoke services where required