03.12.2020
If you know what sold on Black Friday, you can plan for the holiday season
Early start for premium-led promotion in peak season 2020
Data insights from this year's Black Friday show that promotions started earlier and lasted longer than in previous years, and premium products were a particular focus.
Black Friday 2020, like the rest of the year, is not one that retailers and manufacturers will forget in a hurry. The challenges imposed on these sectors are truly unparalleled in history, with companies racing to respond to the rapidly evolving expectations of consumers, who find themselves needing to adapt to a new normal.
With Black Friday coinciding with a second wave of coronavirus in many parts of the world, including Europe, and indeed another round of government-imposed lockdowns, a lot of the trends observed by GfK during the spring lockdowns and in the latest Peak Season 2020 report again rang true. They include premiumization, omnichannel shopping and accelerated demands for simplification, particularly in the "at home" product categories.
Though retailers didn't have long to respond to the news that second lockdowns would make Black Friday season a predominantly online-only affair in numerous countries, those with click-and-mortar foundations laid down were well prepared. Meanwhile, positive developments from vaccine candidates might have given consumer confidence a renewed shot in the arm just in time for Black Friday.
Q&A. Black Friday review
Gleaning fresh insights from GfK's Daily Pricing Monitor, a fully automated data collection, monitoring and analysis suite for the telecoms sector, GfK's Category Head for Market Intelligence David Lewis answers key questions on Black Friday 2020.
Having reviewed some of your initial data from this year's Black Friday, what have you found?
One of the most notable trends we saw this year was the timing and longevity of promotions. It's clearly visible in our sales-tracking data that Black Friday promotional activity started earlier than ever this year and, with Amazon's Prime Day taking place in mid-October, it made for a very prolonged promotional season that gained intensity week on week. Most Black Friday promotions began well before the event itself. In the smartphone market, specifically, 56 percent of leading retailers in Europe were already running their Black Friday promotions one week ahead of 27 November.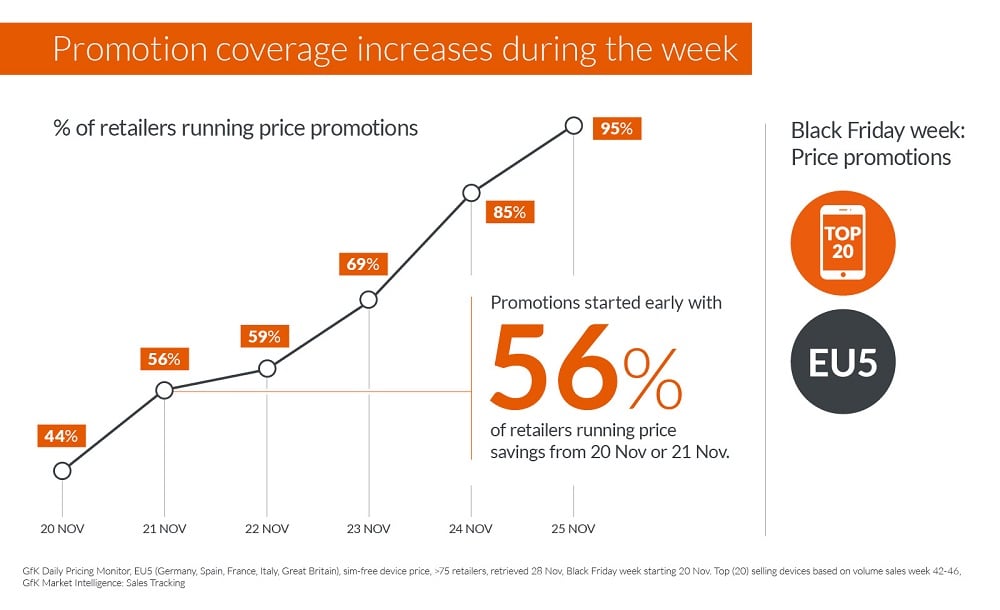 Is this a trend you were already seeing or was the pandemic a factor in decisions to prolong Black Friday promotions?
While COVID-19 has certainly had some impact on Black Friday, when it comes to the longevity of the promotions this has been a general trend for some time now. In the Latin America region, we actually see many Black Friday promotions spread almost across the entire month of November. It's a gathering trend, particularly as Black Friday has become more of a global event, with retailers and brands increasingly taking the opportunity to leverage all of the hype and marketing around Black Friday over a much longer period.
Did you notice any other regional variations in this area?
Within what we call the EU5, Europe's five largest markets, we saw that in general the promotions started at different times. We're only talking a matter of days, but for example a lot of the promotions in Italy started the week ending the 20 November, while in Germany they began more the week after. However, in terms of the levels of promotions, and how products were priced and represented in terms of their reduction, it was quite comparable throughout the markets and we saw common trends across the EU5.
What was a key shopping trend you noted in terms of Black Friday promotions?
One of the main ones was premiumization. Consumers have been increasingly gravitating towards premium aspirational products in recent years, with premium brands the biggest winners in the tech and durables category for a number of Black Friday seasons now. This year, we have again seen a pretty significant level of promotional activity on a number of premium devices. If I hone in on the smartphones category, using our Daily Pricing Monitor, I can see there were reductions of up to 34 percent on some of the leading premium smartphones, and applied quite consistently across the European markets. However, these very strong offers were only evident on selected models.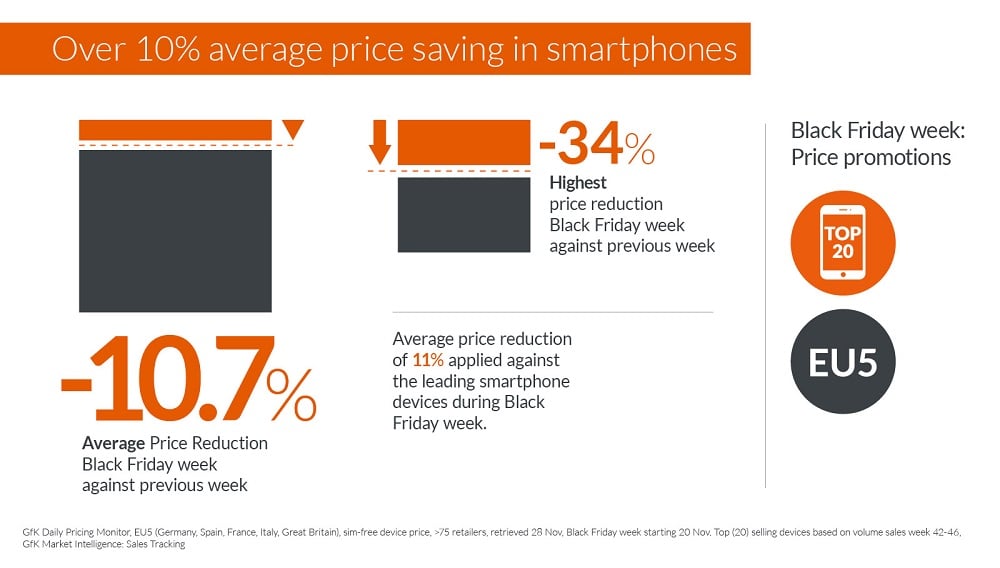 How did promotions play out at the mid to entry levels of the smartphone market?
While premium devices were quite heavily promoted, that's not to say mid and entry-level range devices weren't – just in different ways. Where selected models of premium devices saw high promotion levels, mid to entry-level devices were discounted more broadly. For smartphones that traditionally sell below €600, we saw prices reduced by an average of 12 percent during the Black Friday week, with promotions topping out at 32 percent. On the premium side, there were discounts of up to 34 percent on selected models, but the overall average was much smaller at just 9 percent. We also saw a fair few devices where little to no promotions were applied at all, especially for some of the new launches of premium smartphones.

How do supply chain challenges continue to impact promotions?
Supply chain challenges will continue to be a critical topic for the foreseeable future, and they're only getting more complicated as the pandemic endures. As evident in GfK's sales and distribution tracking, the disruption to the supply chain this year has had a notable impact not only on where consumers are buying but also the brands available and, to some extent, pricing. Moving ahead, this places more emphasis on the importance of being able to act with agility on pricing and promotion decisions.
What are the key learnings this year and how will they impact future Black Friday strategies?
Black Friday is very much here to stay. It continues to be an event that plays a key role on the calendar for tech and durable goods. This year, retailers and manufacturers alike have had to adapt at rapid speed in a highly turbulent marketplace, building swiftly on what they'd already put in place in areas like click and mortar. Being available, being clearly advertized and being firmly positioned against competitive markets has been integral to driving consumer awareness and, ultimately, sales.
The changes companies have made would have been necessary in the years ahead anyway, so those that responded well to the urgency presented by COVID-19 are now in a great position to grow in the future. Strong online and omnichannel strategies, plus the awareness that retailers and brands put behind their promotions, will continue to play an integral role in success during this vital period. With the right intelligence to understand consumer mindset and support decision-making, retailers and manufacturers can gain enormous value from Black Friday in the years ahead.
Find further information here: GfK's Daily Pricing Monitor.
To read more on Black Friday and Peak Season 2020, visit GfK's content hub.