17.06.2021
Making sense of an uncertain world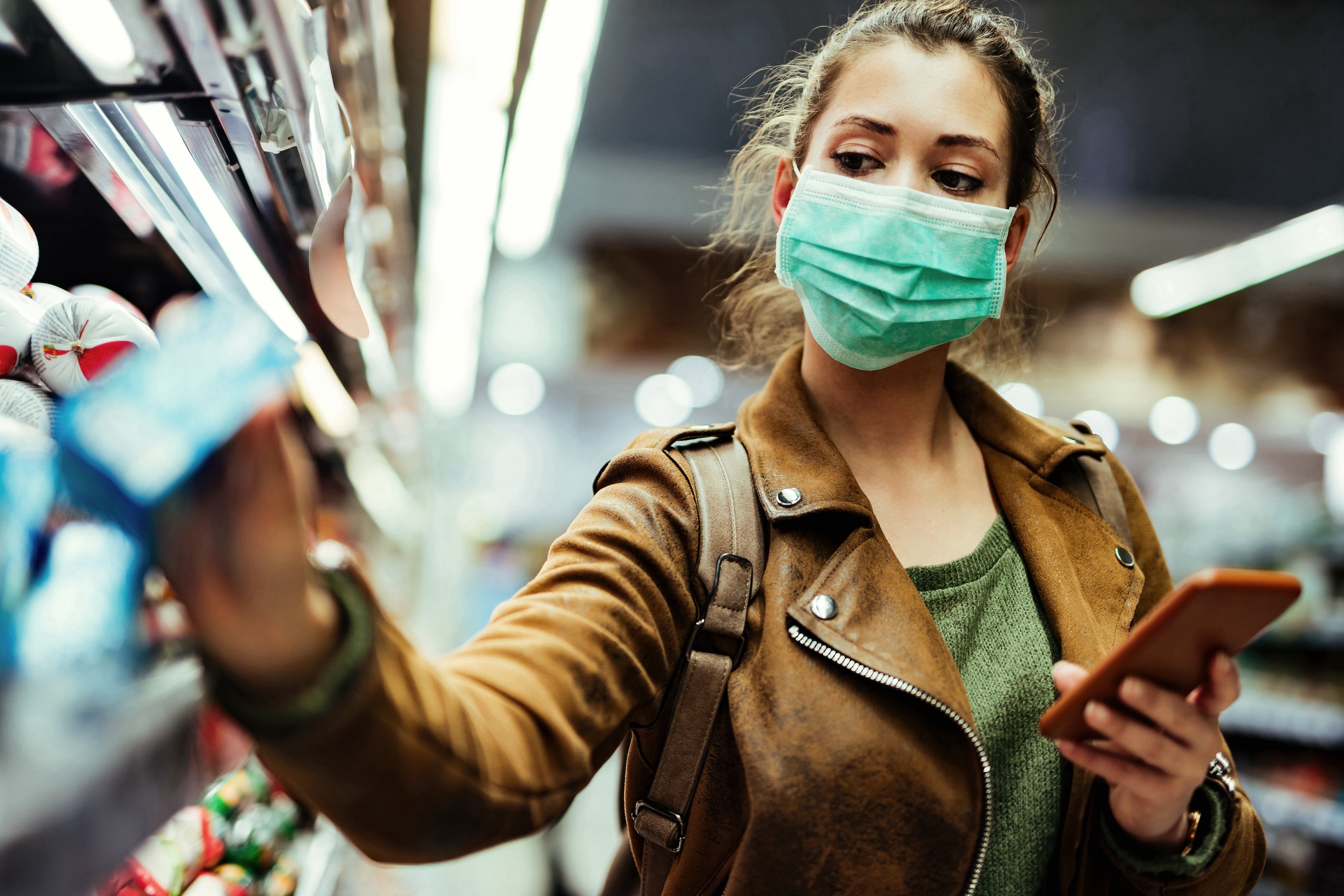 Back in March 2020, Covid-19 transformed how brands engage with consumers. Retail, leisure and hospitality lost all means of physical contact with their customers. With brick and mortar outlets restricted to essential retail and many consumers shielding or self-isolating, consumer shopping habits changed abruptly to embrace digital platforms.
The course of marketing and advertising underwent a massive sea change; one that's brought challenges and disruption – but also opportunities – to businesses worldwide.
Changes in consumer shopping habits in the first lockdown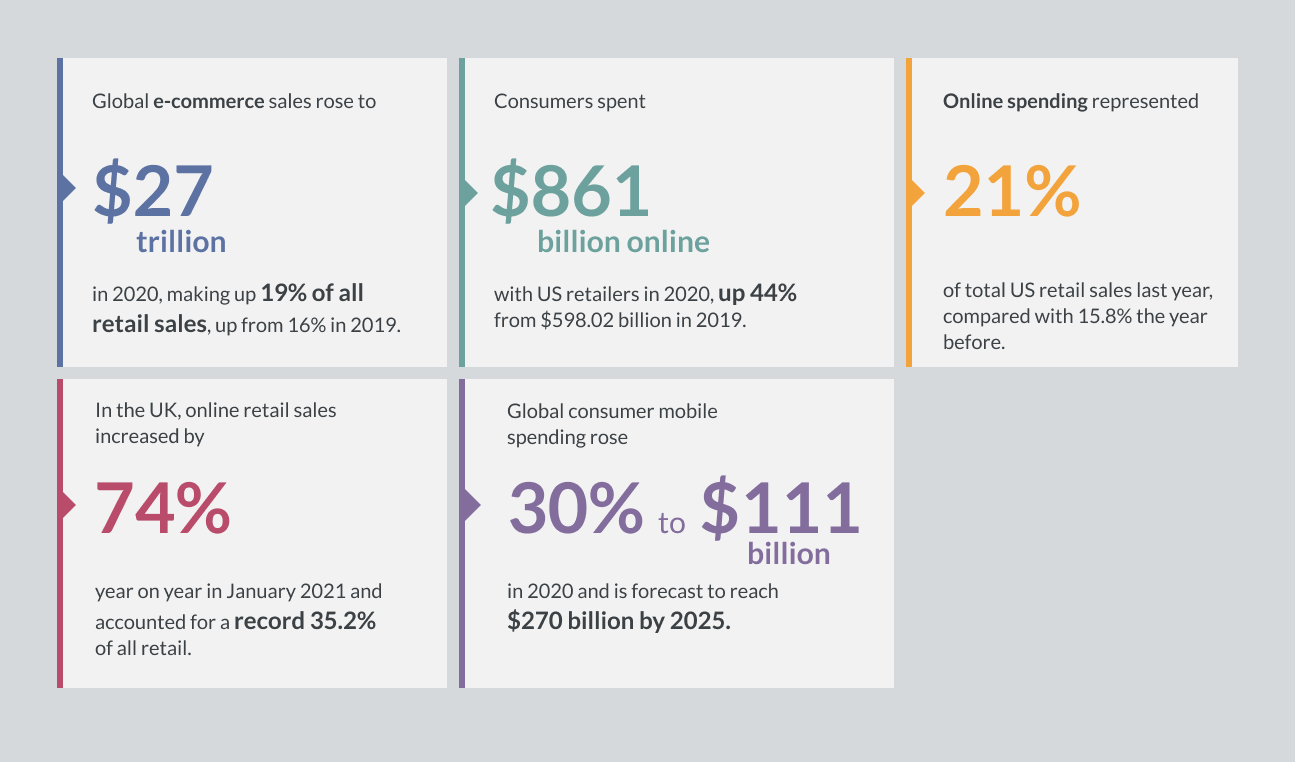 At the same time, consumer leisure habits also changed, with digital content consumption skyrocketing: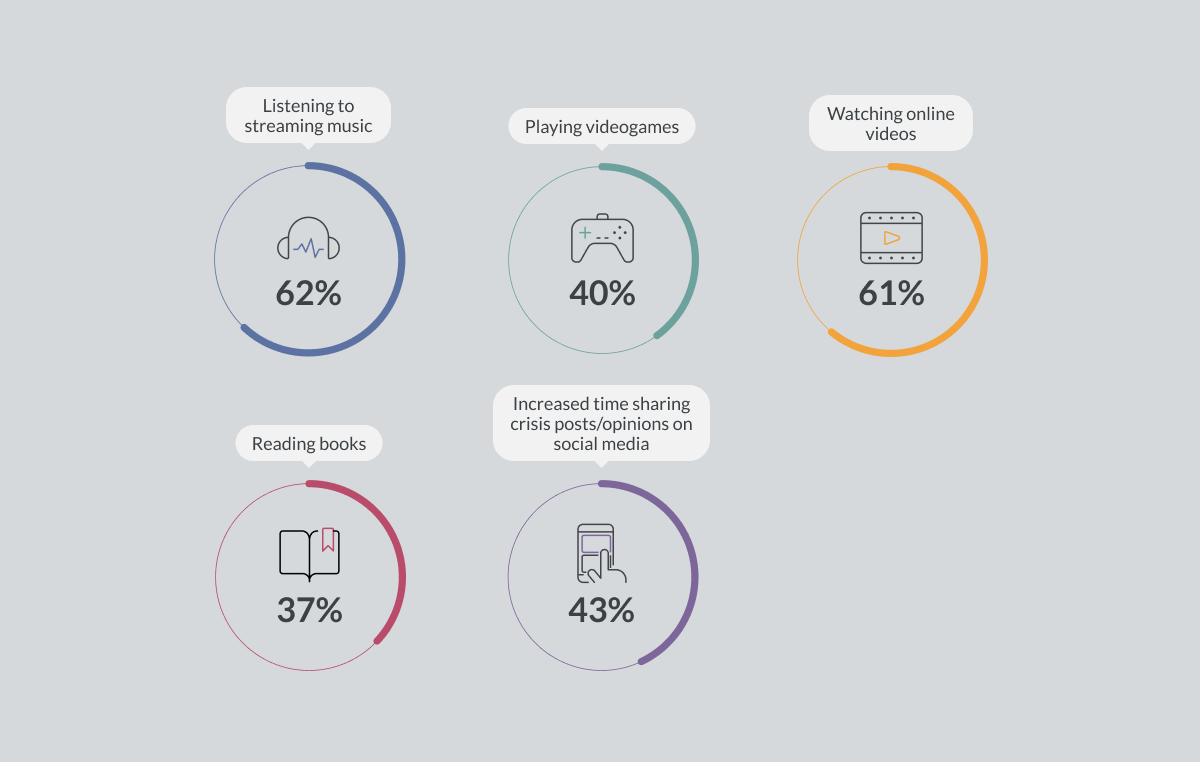 Both sets of figures clearly show how worldwide lockdown has increased consumer dependency on digital channels and media. So how did businesses around the globe react?
'Pivot to digital' – a fight or flight response
For many businesses previously reliant on offline sales and marketing touchpoints, a swift 'pivot to digital' in lockdown ensured survival. Some companies even enjoyed unprecedented growth by exploring new income streams and broadening their digital presence, while many of their non-pivoting competitors were less fortunate.
Yet it wasn't the actual process of 'pivot to digital' that saved the day for those that prospered. It was their agility and ability to adapt to an unforeseen crisis and roll out a new sales and marketing plan that aligned with the shifts in consumer behavior – at speed.
"There'll always be 'Black Swan' events like Covid-19 that we can't predict but which we must still expect," says Spencer Ng, GfK's Marketing Analytics Lead, APAC. "Only by preparing ourselves for a range of scenarios and working out the right approach to each can we truly equip ourselves to weather the turbulence. With ever-growing levels of economic uncertainty, marketers must be able to react quickly to market changes by preparing backup plans in advance."
"However, 'pivot to digital' as a business model simply enabled short-term sustainability – and it won't hold the key to long-term resilience and growth for everyone. The next step is to measure what matters to your business, quantify the effectiveness of your digital pivot and optimize relentlessly. You want to make sure every unit of marketing budget spent drives ROI during these lean times."
Indeed, the shift back to physical shopping experienced a robust and immediate bounce back when stores that were forced to close reopened. When the first lockdowns were implemented in spring 2020, all regions across the globe saw year-on-year quarterly sales declines of between 20 to 50% in traditional sales channels for Q2 2020. However, by Q4 2020, with many countries re-opening, traditional sales bounced back to long-term norms between +0 to 10% year-on-year.6
More recent waves of Covid-19 have resulted in further lockdowns and similar impacts on traditional store sales; however as stores start to re-open again, the same trends surface each time. We can therefore conclude that, while digital channels will remain hugely important in the future, traditional sales drivers are by no means dead in the water.
Looking to the future – anticipating eventual post-Covid recovery
The pandemic itself might have been unforeseeable, but the way the global economy will recover can be predicted to an extent (although it's hard to say when this will take place). In March 2021, the World Trade Organization presented potential recovery scenarios based on anticipated increases in the volume of world merchandise trade of 8% in 2021. The scenarios are shown in the graphic below.7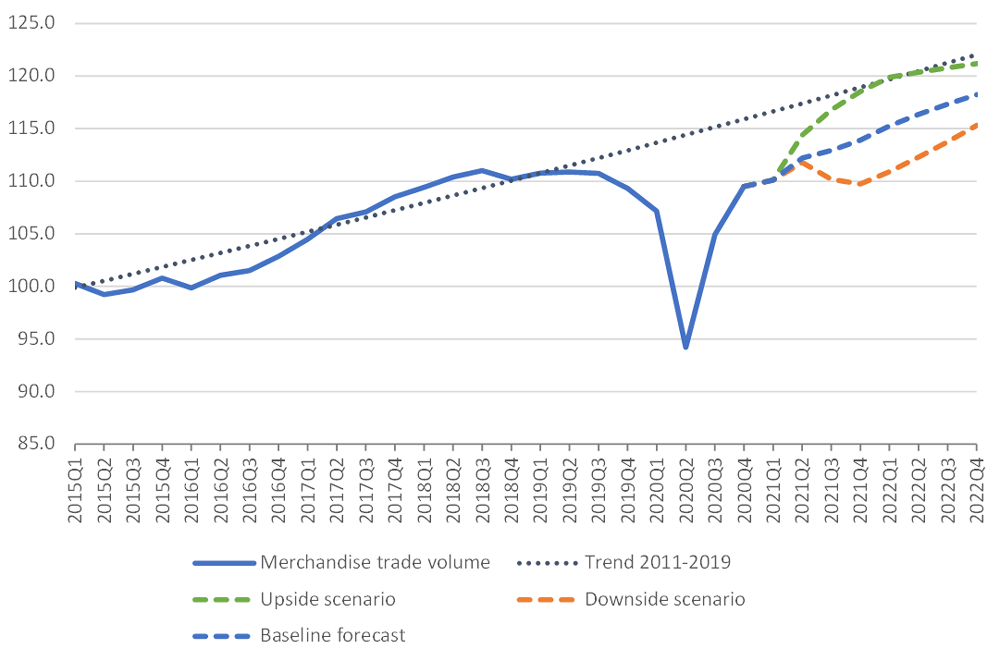 Unfortunately, the Delta variant of Covid-19 has entered the scene since these scenarios were predicted – adding yet another layer of uncertainty to how recovery will ultimately play out. As a business leader and strategist, simply knowing what the potential uncertainties might be won't help you. You must plan and prepare for how to manage any realistic potential outcome of the pandemic.
At GfK, we know from our proprietary Tech & Durables data that there have been big shifts in offline to online sales. However, no category is the same when evaluating the impact of Covid-19 or its likely recovery. What's therefore important is that you understand how lockdown has impacted your brand and how best to plan in the future to optimize your marketing mix and spend to reach your audience in the right place at the right time.
Simulate and optimize with marketing mix modeling
GfK's Marketing Mix Optimizer (MMO) takes the uncertainty out of planning for post-Covid recovery. MMO considers a comprehensive set of sales drivers. It quantifies the distinct effects of media platforms and isolates non-controllable factors such as Covid-related store closures and changes in consumer confidence to predict sales levels.
You can simulate the likely sales outcomes for a variety of marketing plans. MMO shows you the optimal level of spend for each channel, so you can maximize sales or cost savings (depending on the scenario) and achieve the best possible ROI given an assortment of post-Covid recovery or deterioration scenarios.
"GfK's MMO uses cutting-edge genetic algorithms for model building as well as marketing mix optimization," says Spencer Ng. "Imagine simulating thousands of marketing mix plans to identify which one delivers the strongest returns. That's what MMO does for you in an instant for each conceivable scenario."
The benefits GfK MMO delivers to your business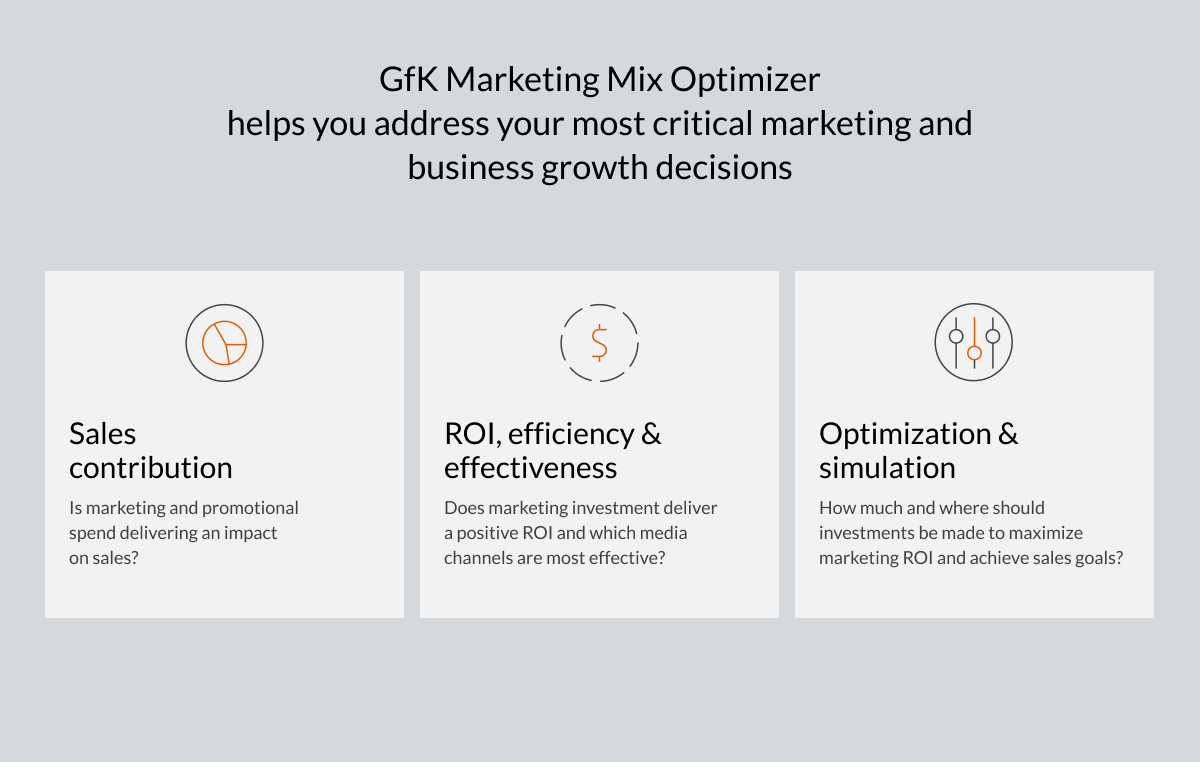 Find out more
You can discover more about maximizing marketing investments in uncertain times by watching GfK's webinar, led by Spencer Ng, our Marketing Analytics Lead, APAC.
For more information on GfK's Marketing Mix Optimizer, please visit our MMO web page or download our MMO e-book.