Digital Marketing Intelligence
Opportunities for Home Improvement & Gardening market in 2022
World events dominating the first half of 2022 have slowed global growth from the previously strong performance of 2021. Inflation has hit 40-year highs in the US, Germany, and UK, putting a serious dent in consumer confidence and changing how and where people are spending. But it isn't all bad news. Demand within the home improvement and gardening market persists, with overall sales value for the first half of the year being higher than the same period in 2019. Looking ahead, further growth opportunities are there for brands that can offer the very specific demands that customers now have.
How is this affecting consumers of the Home Improvement and Gardening market?
Consumer Confidence has plummeted in recent months, and 43% of consumers globally now believe that it's better to hold off making purchases than to make them —higher than in 2020. For the home improvement and gardening market, consumers are therefore likely to delay big projects until the economic situation becomes more robust, or take up smaller-budget projects instead. This also driven by the fact that out-of-home activities, overseas travel and household expenses have all increased this year, taking a share out of consumers' diminishing budgets.
Consumers plan to continue their home improvement even as life out of homes resume.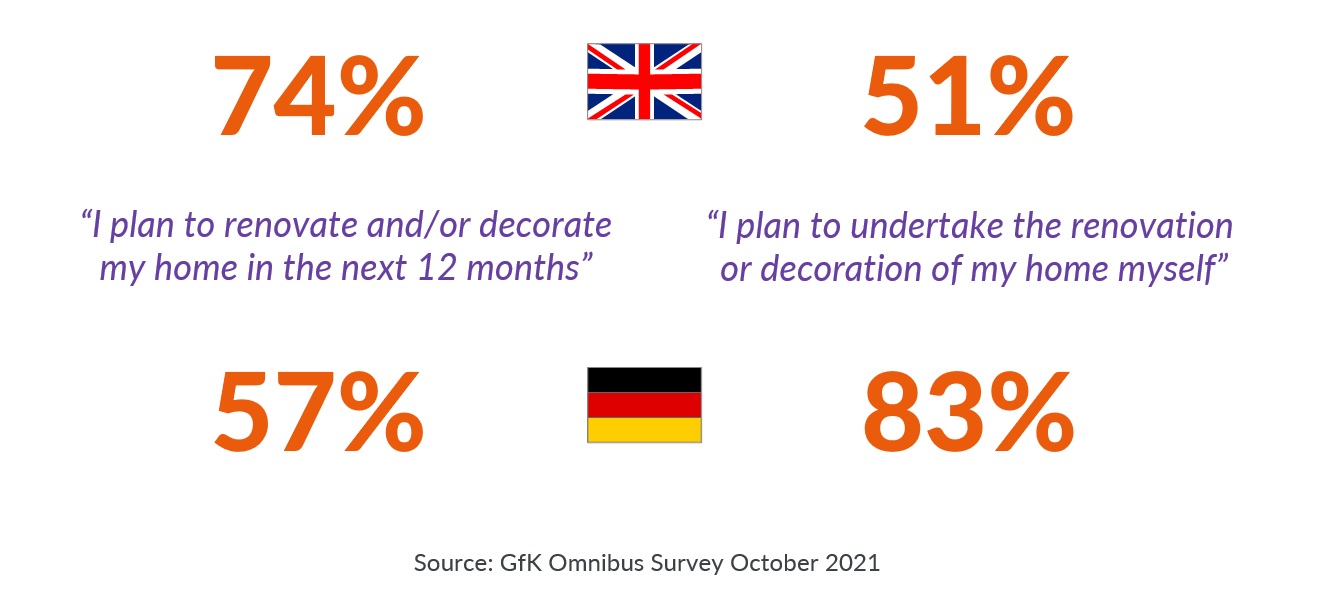 However, mobility isn't back to pre-pandemic levels yet. Nor has the home office lost its appeal: 65% of people globally want to work from home up to four days a week, according to our social media polling. House prices remain extremely strong but are expected to rise more slowly in 2022, which may encourage home-buying. These trends explain why interest in home improvement and gardening remains higher than before the pandemic.
What we see is consumers being pulled in two directions. Home remains a greater focus than pre-pandemic, but out of home attractions are taking an increased share of wallet. The result is more measured growth compared to the record levels we saw during the pandemic.
Rising inflation and raw material costs see increased prices in mass segments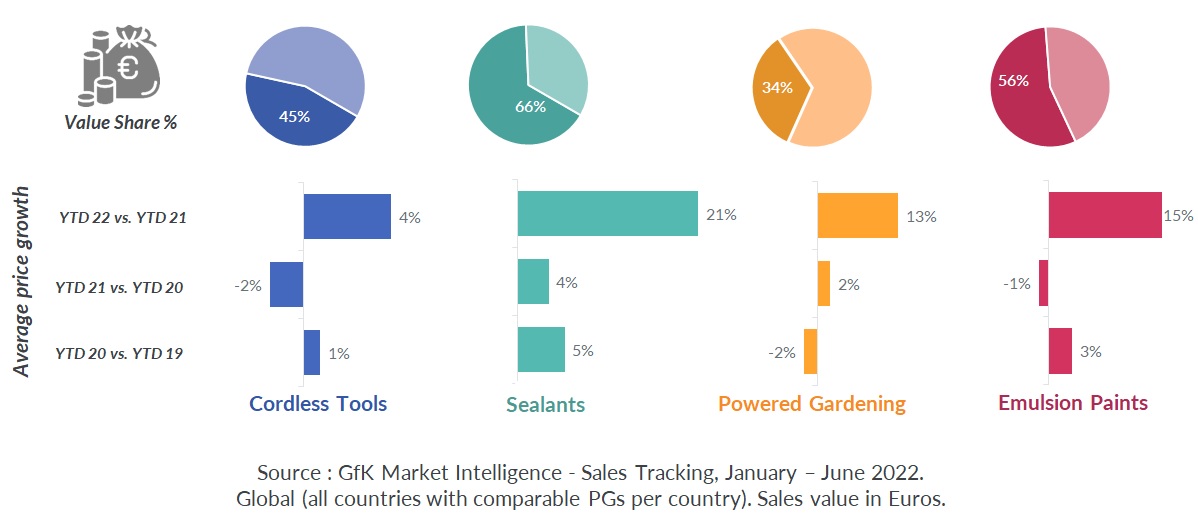 Thanks to steep inflation, people are increasingly buying less, though they're still willing to pay higher prices for certain products that offer clear value in terms of performance, convenience or simplification. In Europe, products in general were, on average, 12% more expensive in June 2022 than January 2020, fueled by higher production costs and premium pricing. That's bumping up revenues, especially in the gardening and building categories.
Four factors to drive growth through value in Home Improvement & Gardening market
As consumers become more discerning, understanding what value means to them is essential for unlocking growth. Price naturally matters, but it's only one aspect of value. Consumers also want products that meet specific needs and challenges.
Performance. Consumers want products that make their lives easier. For example, cordless equipment, professional-level tools, smart and touchless devices, and robots.
Value-driven premiumization. People are still willing to pay premium prices, but they want a clear and demonstrable link between what they're paying and the extra value they're getting for that.
Omnichannel experience. Growth in ecommerce has stabilized, but the consumers purchase journeys spans channels. The purchase may happen in a store or online, but consumers continue to be triggered, and to do their product research, online.
Sustainability. Eco-friendliness is another lever of premium that consumers prioritize. For example, smart thermostats and electronic taps.
Performance
Interest in home improvement and gardening is driving the market for products that get the job done quickly, easily, and effectively. Professional but uncomplicated power tools, for example, make up 55% of revenues in the tools and machines category. Cordless tools make up 45%. We see the same trend in gardening, where 35% of category revenue comes from cordless lawnmowers.
As digital lifestyles grow, consumers are also embracing the simplicity and convenience of connected and contactless technologies. Touch-free devices such as motion-sensor lighting and electronic taps have the additional appeal of being hygienic and eco-friendly in addition of the convenience it offers. These are nascent but high-growth markets. For example, the sales value of electronic taps from January to June 2022 was 18% higher than the same period last year—compared to 11% for regular taps.
Desire to do it yourself drives the growth of high performing yet easy to use products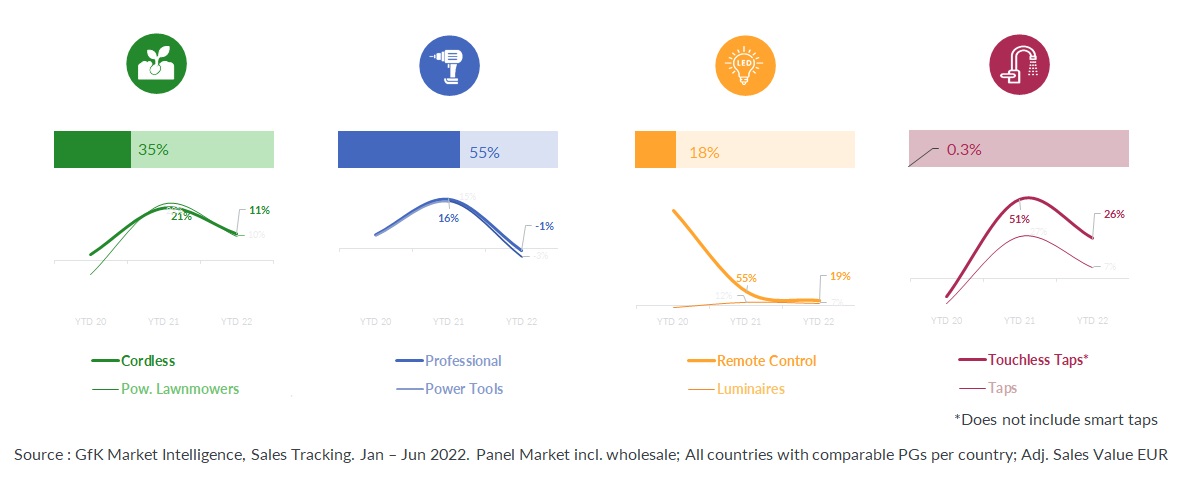 Growth of the smart home market is being driven by home automation devices such as smart robotic vacuum cleaners—which accounted for 85% volume of their product category sales in the first half of the year. Sales of smart energy and smart security solutions are smaller but growing strongly.
How can you make life as easy as possible for distracted, time-poor customers?
Design or upgrade your products with efficiency, convenience, and simplicity as core selling points.
Go smart—connectivity brings a whole new level of functionality, adding to the sense of value gained. But it's also essential that devices work seamlessly together and that digital privacy is safeguarded.
Embrace value-driven premiumization
Gone are the days when premium brands (those priced 120% or more higher than the average selling price for the product category) didn't have to justify their prices.
Innovation is what's fueling premiumization today - unlike mass segment pricing, which is being driven by inflation. Brands within home improvement and gardening that pursue premium strategies can focus on fewer products—which is important when costs are rising and supplies are delayed—yet reap higher margins.
Innovation & smart products drive premiumization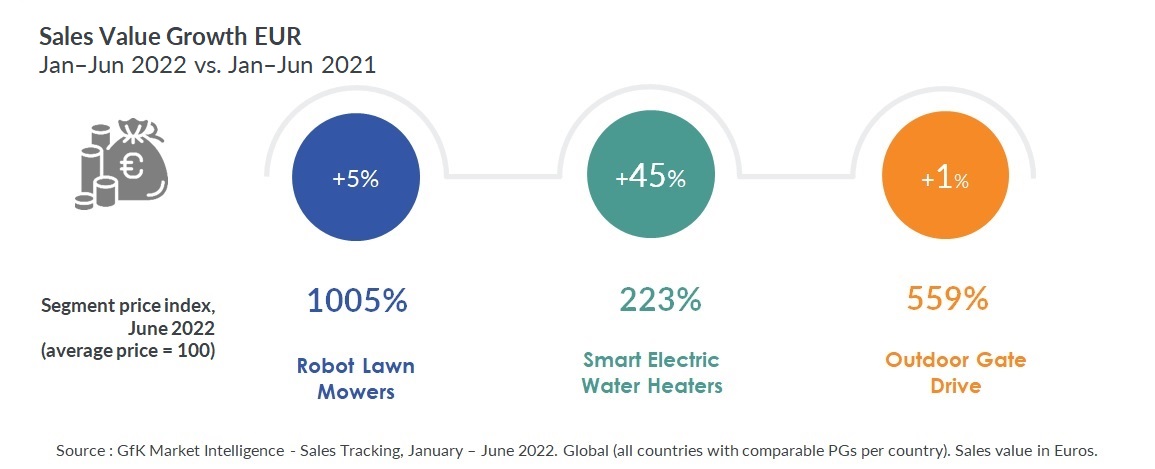 But price still matters. People are willing to prioritize budgets and save for premium purchases only if they're convinced it's worth the extra money. Product features don't always speak for themselves. Focus on communicating highly relevant use cases that demonstrate the value that your customers get from your premium product over the alternative.
Invest in the innovative & relevant feature segments that your customers want. Despite increasing pressures due to the rising cost of living, consumers are still willing to spend on products that offer long-term value in areas such as energy savings, increased convenience, increased performance.
Clearly show how your products offer good value for money. Offer the right product mix in varied price segments targeting different consumer segments. In France, for example, sales of robot lawn mowers for smaller gardens (less than 750 m2) have taken off, with 39% revenue growth in 2021 versus 28% in 2019.
Shape the brand experience you want and monitor brand strength. Every interaction with your business—products, visuals, messaging, reputation—creates emotional and psychological associations, which drive purchasing decisions. Home improvement and gardening market categories are less brand-driven than some other sectors, so there's a good opportunity to inspire brand loyalty.
Drive your omnichannel experience
The home improvement and gardening market as a whole was slow to shift to ecommerce during the pandemic. When it came, though, the change was fast – climbing from 10% of all sales made online in 2019 to 15% in 2020 and 18% in 2021. Growth has now stabilized as mobility increases and physical stores open, but the way consumers now prefer to buy has been permanently affected and is more complex than before. Demand for online will remain, with many consumers also wanting a blended physical and digital experience.
Successfully engaging digital and phygital consumers means understanding who virtual shoppers are. Typically, these have been the younger segments, but has now expanded to include a higher proportion of older consumers who have become more comfortable and trusting with online shopping, and appreciate the added convenience. They value easy and seamless experiences. They get inspiration and information from the likes of Instagram, Pinterest, and Facebook. And when it comes to purchasing, brands & retailers need to be cautious of the competition from digital space and digitally native brands.
Consumers who've gone back to offline shopping still use social media for research and ideation. Conversely, digital consumers are still attracted to the fun, immersive, and creative experiences that physical stores can offer. What everyone wants, no matter what channels they use, is a convenient, pain-free process. They also want a more sustainable process, demanding that brands and retailers use more sustainable packaging and delivery options.
How can you craft the right omnichannel experience for your customers?
Create and perfect your social presence. Focus on engaging your target consumers on the specific social channels where they are spending most time researching their interests, hobbies and intended purchases. Monitoring your social performance is key to constant improvement
Find innovative ways to engage customers online and offline. Offline retailers can invest in the experiential stores to drive engagement via workshops or events. Many brands are also offering online garden planners which are easy, fun and free to use.
Champion sustainability
Preserving the environment is the fastest-growing of the personal values we track, jumping from #24 in 2016 to #16 in 2021. The pandemic has only served to heighten awareness of the impact that globalization has on people and the planet—and what consumers can do about it. People are buying less and sharing more. They have higher expectations of companies. And they're willing to take their business elsewhere.
Share of eco-friendly products continues to grow in home improvement, DIY and gardening

Sustainability is an important product feature for many consumers. It's even more desirable when combined with the functionality and ease of smart and touchless technologies, as discussed above. But demand for green products is spread across other categories too. For example, sales of water-based paint from January to June 2022 grew 78% in value compared to the same period last year. Organic and natural growing media grew 48%.
They know that, to really make a difference, companies must look at the total impact of their entire value chain. That's why consumers are embracing circular business models. These highly tangible strategies also appeal to their desire to act—to reduce, reuse, repurpose, repair, recycle.
How can you empower your customers to play an active role in achieving sustainability?
Work with upstream and downstream partners to ensure that sourcing, distribution, and disposal are done as sustainably as possible.
Back up your claims. Be open and transparent. Align your words and actions. Take a stand. It's all part of authentic brand-building.
What's next for the Home Improvement and Gardening market?
It's a mixed outlook for Home Improvement & Gardening in 2022. Finding growth depends on understanding exactly what drives purchasing decisions. Our research clearly shows that consumers value fuss-free, eco-friendly lifestyles, and are willing to pay for it. Performance, sustainability, premiumization, and channel strategies that focus on these values—particularly in the smart home arena—have the greatest chance of success.
Not all of these strategies will be right for all companies, of course. Target markets, demographics, product portfolios, positioning, and brand identity all factor in. Deep insights are vital. Consumer research will reveal which groups are more passionate about convenience or sustainability, which groups can better tolerate premium prices, and how different groups shop. Brand intelligence will reveal what consumers really think about brands and what their expectations are. And market data will reveal nuances between countries in terms of consumer motivations and behaviors.
Learn more about consumers interested in Home Improvement, DIY & Gardening brands