21.03.2022
Five Audio Measurement trends to watch in 2022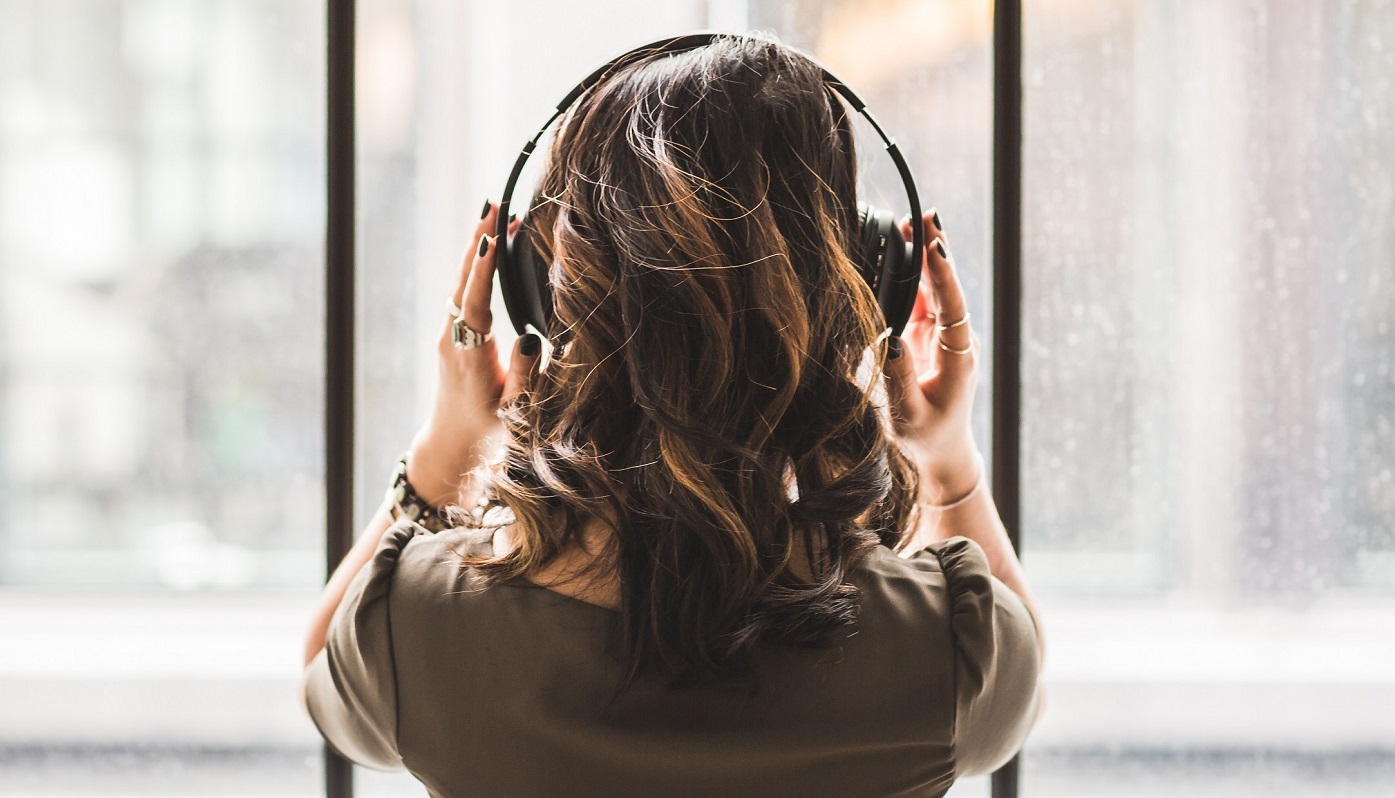 by Simon Pearce, Listening Product Manager, GfK
Audio is in the midst of a revolution, listening consumption is up, digital audio platforms are growing larger by the day and podcasting has stepped into the mainstream. Consumers are filling their ears with audio content and the industry seems certain to continue that growth into 2022.

Here we take a look at 5 key trends in Audio from the perspective of audience measurement:
1. Hybrid Radio Measurement
Across all markets, radio is still by far the most common way to consume audio and therefore quality measurement is important. As radio markets mature they are looking to step away from traditional forms of measurement, such as diaries, towards more modern passive measurement techniques. However, switching data collection methodologies can come at a price, therefore, we are seeing some radio markets adopt a hybrid approach to radio measurement.

Hybrid Radio Audience Measurement combines different measurement techniques in an effort to provide a non-disruptive evolution towards improved data quality. With multiple different forms of measurement available hybrid RAM can have many different forms; from traditional diary measurement plus a passive Audio Content Recognition mobile phone app in the UK, to electronic diaries plus radio streams in Australia (image 1).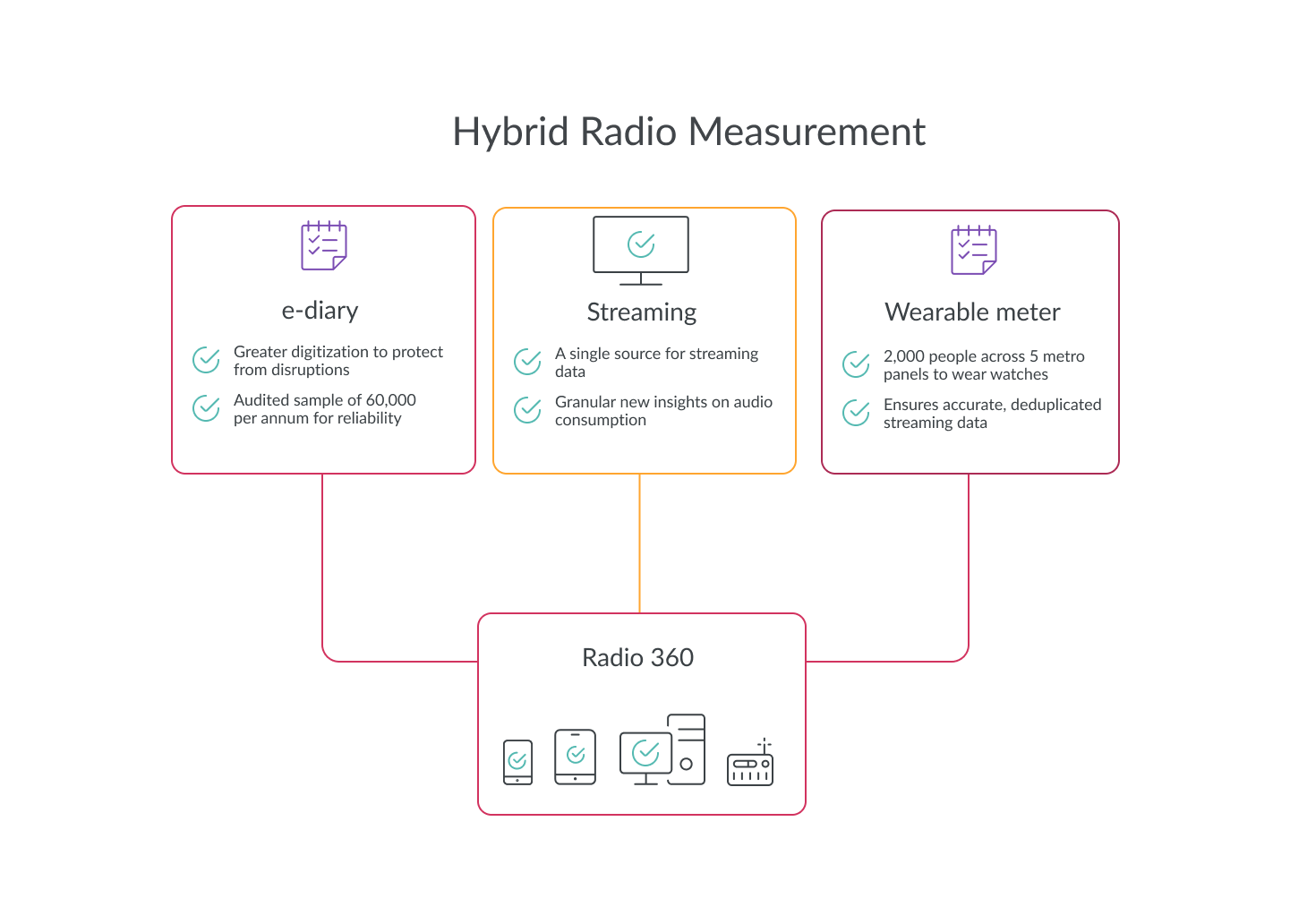 2. Radio and Streaming Audio
As the importance of Streaming Audio grows, some markets are looking to include radio streams, and more (such as podcasts), in their measurement currency data. Radio stations are all about audio content with the companies behind them seeking to make that content available in as many places as possible, bringing in additional revenue streams at the same time.
The robust radio currency data that most markets have is seen as a stamp of approval for many advertisers. Looking forward we expect to see this currency be extended to radio streams and expanded to also include additional forms of digital audio content such as podcasts.
3. Audio and Total Media Measurement
Total Media Measurement, where different forms of media are measured together in one house, is something that has long been talked about amongst researchers. In 2022, the Netherlands (NMO) are looking to launch the world's first true cross-media total audience measurement, integrating audience measurement from TV, Radio and Online; enabling advertisers to view audience statistics on media channels individually and combined.
In the Netherland's total audience measurement approach, Radio Listening will be measured via a passive mobile phone app with the same app also said to capture streaming audio.
Audio markets across the globe are interested to see the outcome of this new approach and the effect it has on the all important audience listening data.
4. The Continued Rise of Podcasts and Expansion of Digital Audio Platforms
With big companies like Apple Music, Amazon Music, Spotify, YouTube Music already deep in to Digital Audio the market has moved beyond infancy and is firmly in the expansion stage. Total Streamed audio, has seen rapid expansion over the years and now makes up for around a quarter of all listening in developed markets. In particular, podcasts have become a major talking point over the past few years and it seems they are here to stay.
In 2021, Amazon fast forwarded their podcast involvement by purchasing podcast network, Wondery. And, In a move towards a more sustainable business model, 2021 witnessed Spotify solidify their involvement in the podcast market, purchasing companies like Megaphone (a podcast host), Gimlet and Anchor (podcast ecosystem).
We expect 2022 to see companies develop further in the digital audio space and more acquisitions as the big players seek to cement their dominance – already in 2022, Spotify have acquired audio on demand company, Whooshkaa.
5. Audio Advertising deals with a Cookieless World
With a move towards a 'cookieless world' the advertising community will see a decline in the accuracy of third-party data, making targeting harder. However, Audio is in a strong position to ride the storm through the use of valuable first-party data from logged-in accounts to robust audience measurement.
For over 50 years radio consumption has been surveyed providing advertisers with valuable audience figures, this data will not go away. Instead, with developments like hybrid RAM and passive measurement techniques, radio measurement will continue to be strong. And let us not forget radio makes up the largest chunk of audio consumption.
The Digital Audio Platforms, for the most part, benefit from logged in users' first-party data. In 2022 we expect to also see podcast transciptions being utlised to enable advertisers to target appropriate content.
As the Audio revolution continues we expect to see, or should that be hear, more Audio available in more places and a greater adoption of audio strategies across both publishers and advertisers.