Advertise with precision
Target your ideal consumer segments on the right channels and devices. GfK's Consumer Segment Activation platform gives you detailed audience information that can be used seamlessly for media activation.
Get data-backed insights into consumer purchases, demographics, attitudes, and media consumption from our off-the-shelf solutions, or craft bespoke segments to suit your needs.
It's time to win new customers, impact market penetration and drive shopper acquisition with enriched profiles that deliver maximum ROI on your marketing and advertising spend.
8 shopper profiles. A wealth of information.
Why wait to build your own custom shopper profiles? Immediately integrate FMCG shopper insights into your analyses and reporting with our off-the-shelf solutions.

Our ready-made profiles are sharply defined by real purchasing behavior and attitudes, drawing from a Consumer Panel of more than 30,000 households and real POS data. Enrich your understanding with detailed knowledge of their buyer indicators and sales types, brand choice and loyalties, time pressures, attitudes to advertising, and more.

We are delighted to launch in Germany, and will be expanding to other European markets soon. Watch this space!
A complete target segment profile at your fingertips
Reach your target audience, at the perfect time, with a message they want to hear. Our high-quality, first-party FMCG and CPG panel data connects you with up-to-date, rich insights into consumer behavior that's based on real purchases and includes an overview of their attitudes, demographics, device ownership, and more.
Advertisers, and marketing teams at FMCG companies use GfK Consumer Segment Activation to advertise with precision. Here's what you could know when using it to plan your digital targeting.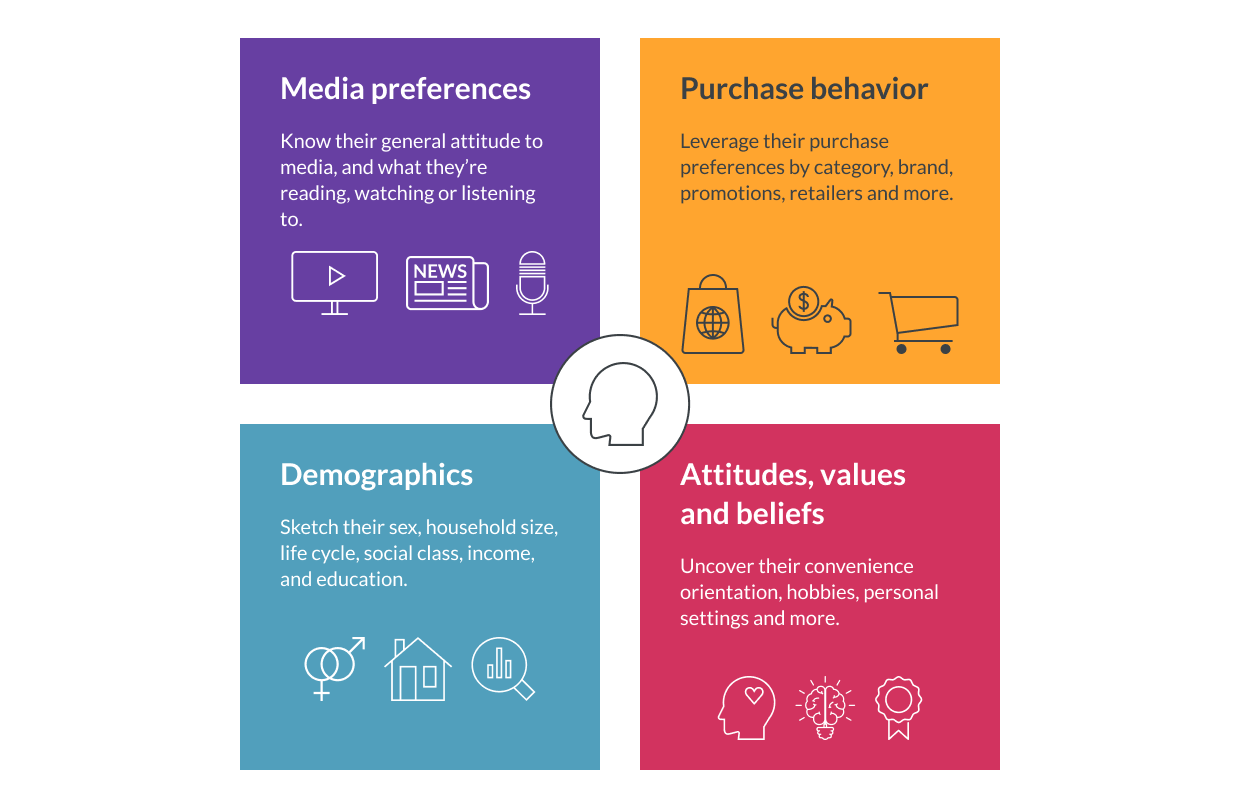 Optimize your campaigns with enriched data
GfK Consumer Segment Activation is designed to help you:
Plan efficiently with a direct path to purchase
No need to convert sophisticated behavior segments into simple, social demographics. Get a direct path to purchase, and bring strategic audience planning into tactical campaign implementation with no loss in data quality or detail.
Leverage constantly updated purchase behavior
Plan campaigns using the latest insights into your target shoppers. Get insights based on constantly-updated and measured purchase behavior from buyers and non-buyers that can be easily benchmarked.
Use first-party data from one of the world's largest and most trusted market research institutes
Optimize your strategies based on data from a single trusted source that delivers unparalleled data accuracy.
Quickly standardize processes across your whole organization with single-source data
Use pre-built shopper profiles to quickly and reliably align teams across your organization, platforms and partner network to ensure end-to-end targeting coherence.
Easily create, activate, and analyze campaigns
Seamlessly integrate Consumer Segment Activation with complementary GfK solutions, such as Marketing Mix Evaluator and Campaign Performance Analysis to create, activate, and analyze campaigns based on the same segments end-to-end.
How it works
Optimize your advertising and marketing in 4 easy steps that bypass third-party cookie- and GDPR restrictions, and match strategic audiences with the right digital media channels.
Using high-quality, first-party data assets, connected to the programmatic universe via PII-data matches with ID graphs, we match behavioral segments to channels to help you craft a foolproof marketing strategy and support your tactical implementation.
Step 1: Define your target audience
Create standard or bespoke target groups based on data from surveys, socio-demographics, purchase behavior or future purchase probability, media usage, campaign exposure, and more.
Step 2: Transfer and extrapolate
Match GfK data with your internal or third-party party data based on deterministic identifiers. A third-party partner extrapolates the seed audience to a relevant lookalike audience, which is then pushed to DSPs, Publishers and walled gardens.
Step 3: Target your ads
Build highly targeted ads that increase your reach/frequency, expand your campaigns to new digital/linear channels, drive loyalty, persuade buyers of competitive brands, and more.
Step 4: Evaluate your success
Measure results after each campaign and further enrich your segment data based on consumers' engagement. This ensures your targeting becomes more accurate with each iteration.