Precise targeting for brand and sales uplift
Identify, enrich and activate your customer segments with GfK Consumer Segment Activation. We replicate your target group and measure media usage and exposure, purchase behavior & propensity, lifestyles and more within one source. Then we enrich a 3rd party's platform (CDP/ID graph) you are working with or your own CRM data base with the audiences so that you can use enriched profiles in your digital campaigns in a GDPR compliant way. Enriched profiles allow your campaigns to run effectively so that you can win new customers, impact market penetration, and drive shopper acquisition.
Optimize your campaigns with enriched data
Know how to identify your marketing segments for best targeting accuracy
Enrich audience data with additional attributes for one-to-one communication
Reach people who matter, based on their real purchase behavior
Imagine having a complete profile of your target custom
Our 300+ different segments are based on so much more than demographic data. We help FMCG leaders identify who people are, which media they consume, what they think, what they buy, and how and where thy buy it.
Here's a sample of how marketing teams and agencies that use GfK Consumer Segment Activation see their customer profiles.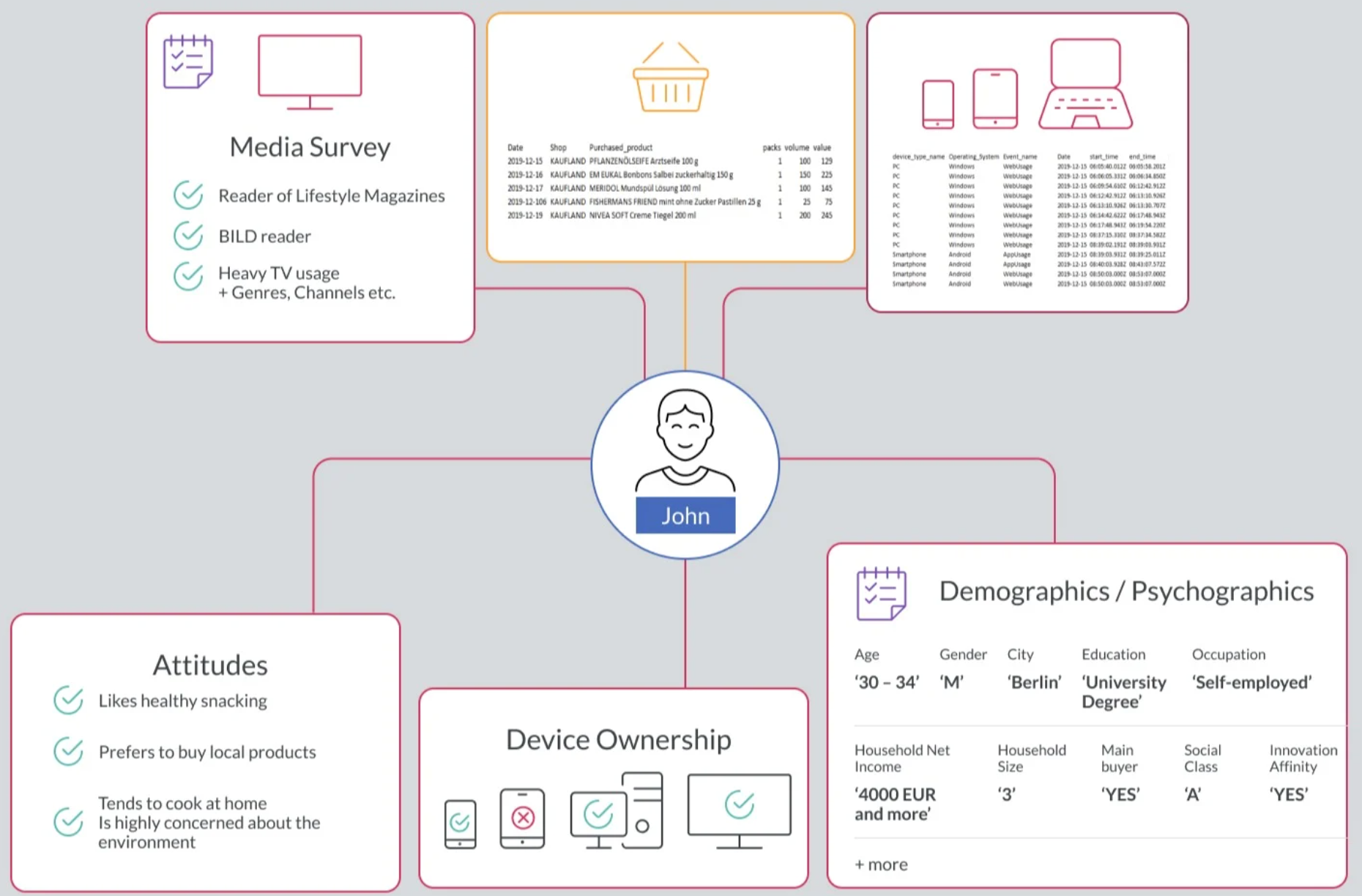 Spotlight on: The eco-active segment
Highly concerned about the environment, this growing segment of consumers invests energy and money in buying sustainably.
22%
of the world population
10%
growth in Europe from 2019-2021
50%
of the population by 2029
Step 1: Define your target audience.
We'll help you create standard or customized target groups based on data from surveys, socio-demographics, purchase behavior or future purchase probability, media usage, campaign exposure, and much, much more.
Step 3. Target your ads.
With rich data about your segments, you can build highly targeted ads that increase your reach/frequency, expand your campaigns to new (digital or linear channels), drive loyalty, persuade buyers of competitve brands, and more.
Step 2. Transfer and extrapolate
GfK data is matched with your internal or a 3rd party data based on deterministic identifiers. A seed audience is extrapolated to relevant lookalike audience, which are then pushed to open web or walled gardens through DSPs / Publishers.
Step 4. Evaluate your success.
After each campaign, you can measure results and further enrich your segment data based on consumers' engagement with prior campaigns so that your targeting becomes more accurate with each iteration.