Amstelveen 18.05.2022
Sterke ontwikkeling fysieke winkels in Non Food
Nu we april achter ons gelaten hebben, kunnen we de balans opmaken voor de Non Food branche. Dit doen we op basis van de GfK Retail Recap, waarin wekelijks de omzetontwikkeling van de grootste Nederlandse Non-Food retailers in de panels die GfK verwerkt, wordt weergegeven.
De omzet van Non Food is in de eerste 4 maanden van dit jaar met 8% gegroeid. Deze groei komt volledig voor rekening van de fysieke winkels, die hun omzet wel met 83% zagen groeien. Dit wordt veroorzaakt door de corona beperkingen in de eerste 4 maanden van 2021, waardoor niet-essentiële winkels niet of slechts beperkt open mochten zijn. In 2021 heeft de online sector daarvan geprofiteerd, maar de opening van de winkels zorgt er nu voor dat de online omzet in de eerste 4 maanden van dit jaar is gedaald. Deze groei van offline en daling van online zien we terug in alle Non Food categorieën.
De groei van 8% is met name behaald tijdens de eerste 10 weken van dit jaar; vanaf week 11 (medio maart) staat de Non Food omzet onder druk. Grootste omzetgroei is behaald in Home & Living, Doe-het-Zelf, Tuinproducten en Fashion; productgroepen die met name geprofiteerd hebben van de heropening van de winkels.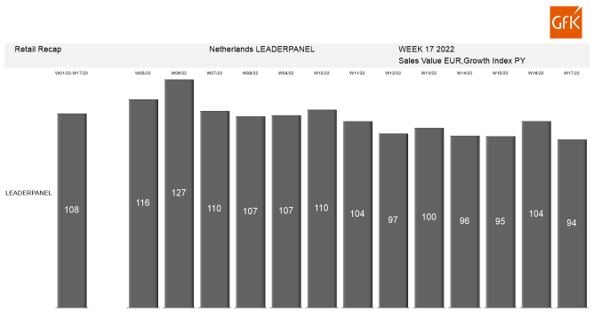 Gemiddeld ligt het online aandeel in de eerste 4 maanden op 55%, maar door de groei van offline en de daling van online, daalt het online aandeel gedurende de maanden tot 49% in de laatste week van april.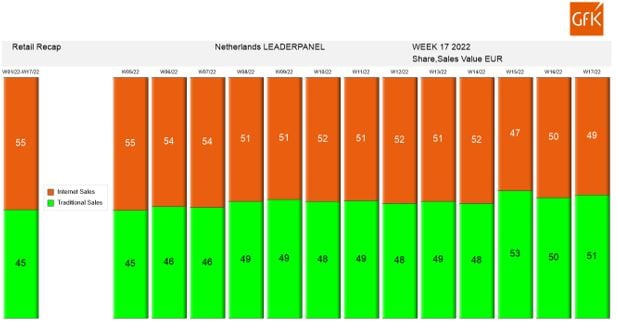 GfK Partnership Program
Zoek jij als retailer ook houvast in de continue veranderende markt? Lees meer over GfK Partnership Program . Of meld je direct aan bij het programma.
Voor meer informatie of persoonlijk advies kun je een mail sturen aan danny.vandenburg@gfk.com