London 07.09.2022
Europe's data marketers are crying out for speed
Europe's marketers generally come in ahead of the global average for data marketing capabilities, but there are key barriers around systems, talent and resistance to change that are holding back their full potential.
In Europe, 85% of marketers believe that direct access to customer data gives them a competitive advantage, and 61% are highly confident in their data and insights systems for winning and retaining customers in today's fast-paced marketplace.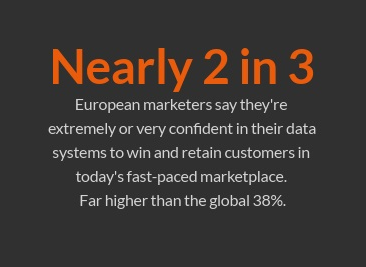 However, their full potential is being held back by difficulty in accessing data and insights.
Only 20% say they have real-time access to all relevant points of customer insight and data from across their entire organization as well as from external partners and third parties). While 37% say their data access is "hit or miss" or worse, with difficulty accessing data across various functions, partners or third parties.
Europe's data marketers frustrated by lack of real-time availability of insights
On top of the data access challenges, Europe's marketers are frustrated by the lack of speed in moving from data gathering to having actionable insights to work with. Only a third (36%) are happy with the speed achieved, while the majority (41%) say it's later than desired, and nearly a quarter (23%) say it takes a long time, or far too long.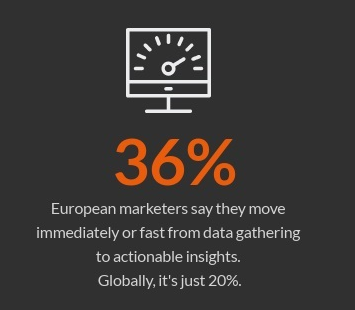 This desire for greater speed is also reflected in the wish list from Europe's marketers for the coming 12 months. Acquiring real-time availability of insights is the number one capability that people are planning to improve this year, and it is also tops the list for capabilities that marketers want this year but see as being out of reach for their organization.
What is holding Europe back from realizing full data marketing potential?
Almost half say that what they need to reach their full data marketing potential are systems that connect current data silos to give joined up insights. Closely following that is a cry for specific talent to drive moving at speed from data collation to insights to action.
On top of these, a third of Europe's marketers say what's holding them back is lack of budget to improve their data systems, and a quarter blame existing resistance to change within their organization.
| | | |
| --- | --- | --- |
| | Europe | Global |
| Systems that connect data silos | 48% | 55% |
| Talent to move from data collation to use | 40% | 52% |
| Budget to improve data systems | 33% | 44% |
| Resistance to change | 26% | 32% |
Conclusion
To spot sudden, disruptive changes in customer and market behavior, and take relevant action, modern marketers need high-velocity data marketing. That means both systems and talent that is focused on acquiring real-time, relevant data signals and moving at speed from data to insights to action. The current gaps in these areas across Europe and globally present strong opportunity for CMOs who can commit resources to acquiring the tech, talent and culture that allows their organization to climb ahead on the high-velocity data marketing maturity curve.
Want to explore further?
These European findings are part of recent research into high-velocity data marketing conducted by GfK and the Chief Marketing Officer (CMO) Council with over 300 marketing leaders across industries and geographies. The full global report explores the critical capabilities present today, marketers' plans for the next 12 months, and the gaps between top performers (i.e., marketing leaders who are most confident in their data/analytics/insights systems to win and retain customers) and bottom performers.
Download our free global report: The high-velocity data marketer