Amstelveen, 18.10.2022
Energiecrisis zorgt voor piek online bereik energieleveranciers
Online bereik energieleveranciers groeit naar 6 miljoen personen
In september 2022 is het online bereik van Nederlandse energieleveranciers gestegen naar een krappe 6 miljoen personen (GfK GXL DAM, 39,8%, 5.930.000 personen van 13 jaar en ouder).
Ten opzichte van een jaar eerder is dat een stijging van meer dan 13%, ofwel 689.000 personen. Relatief gezien is de stijging het grootste in de regio Noord, daar steeg het online bereik met meer dan 25 procent ten opzicht van een jaar eerder.
Opvallend is ook dat het online bereik onder personen in de hoogste sociale klasse (AB1) met 35% relatief het laagst is, en in de lagere sociale klasse (CD) met 46% het hoogst; dit niveau lag eerder dichter bij elkaar.
De piek in bereik lag rond de aankondiging van het tijdelijke prijsplafond door de overheid op 20 september.
De verhoogde aandacht voor de energiemarkt draagt ook bij aan een hogere bezoekfrequentie: meer dan de helft van de online bezoekers in september bezocht op 3 verschillende dagen of vaker online één of meerdere energieleveranciers.
Ook de grote energie vergelijkingsites maken een flinke stijging door: gezamenlijk steeg het aantal bezoeken van deze diensten met zo'n 30% ten opzichte van een jaar eerder.
Bron: GfK GXL DAM, PC/Laptop, smartphone, tablet: het online bereik van de energieleveranciers betreft de websites en apps van de merken: Budget Energie, Delta Energie, Easyenergy, Energiedirect, Eneco, Engie, Essent, Frank Energie, Greenchoice, Nederlandse Energie Maatschappij, Oxxio, Powerpeers, Pure Energie, Vandebron, Vattenfall.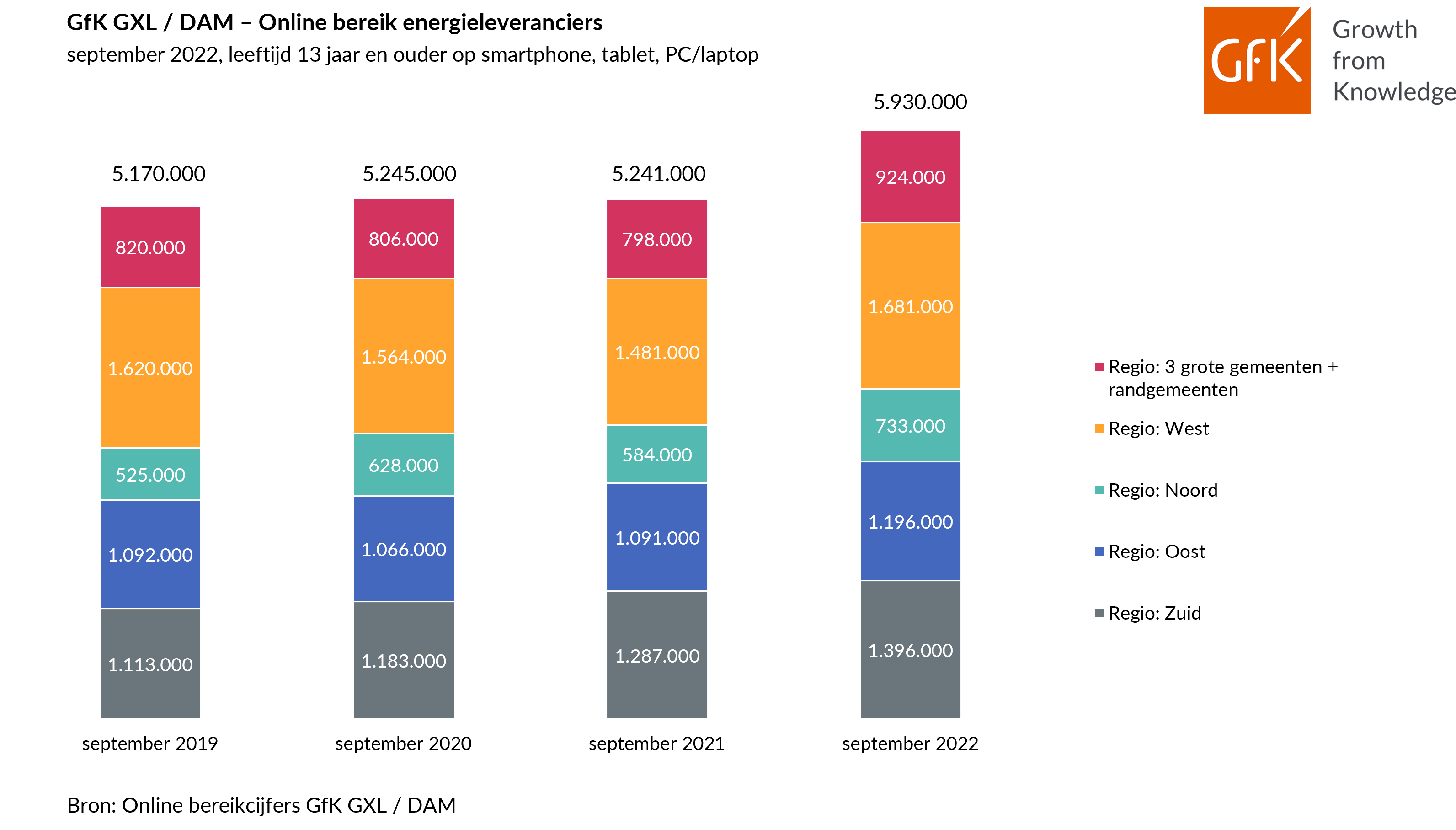 Over GfK GXL
GXL staat voor GfK Crossmedia Link, het grootschalige crossmediale panel van GfK waarin ook het aankoopgedrag wordt vastgelegd. Het online- en het televisiegedrag wordt passief en single-source gemeten. Daarnaast wordt via jaarlijkse vragenlijsten informatie verzameld over luister- en leesgedrag en ruim 350 andere achtergrond-kenmerken. Meer informatie over het onderzoek en resultaten is te verkrijgen bij Jeroen Nikkel (jeroen.nikkel@gfk.com).
Over GfK
GfK verbindt gegevens en wetenschap. Innovatieve onderzoeksoplossingen bieden antwoorden op belangrijke zakelijke vragen rond consumenten, markten, merken en media - nu en in de toekomst. Als onderzoek - en analysepartner belooft GfK zijn klanten over de hele wereld "Growth from Knowledge"
Perscontact: Christine de Boer, T +31 6 28 11 77 11, Christine.deBoer@gfk.com