London, 18.09.2020
British ownership of smart speakers quadruples in last three years
Data just released from GfK's annual Smart Home study show 29% of Britons say they now own a smart speaker – making this the second most popular smart home device after smart TVs (49% ownership this year). Last year, ownership of smart speakers was 22%, while in 2018 it was 14%, and in 2017 it was just 7%.
The picture is not so rosy across other smart devices, however, with claimed ownership of smart devices in areas such as home security and energy management remaining flat or even dropping slightly.
Trevor Godman, Key Account Director at GfK, explains,
"People's stated interest in buying connected devices for security and energy management – such as smart lights, thermostats, and doorbell-cameras - is actually strong. The problem is that 58% of people hesitate about the higher cost of smart devices over conventional devices – they need to be convinced of the value that "smart" benefits bring."
On top of this, the study shows an increase in the level of concern about privacy in relation to smart home technology. This now stands at 53% of people for smart devices in general, up from 49% last year – and increases to 58% for smart entertainment devices in particular.
Godman continues, "The onus is on the industry to win consumers' trust in these areas, and also address ease of use and interoperability of connected home devices – the ability of some of those devices to monitor or control others. Addressing these areas will drive wider uptake."
For more findings from GfK's Smart Home study, please contact Trevor.Godman@gfk.com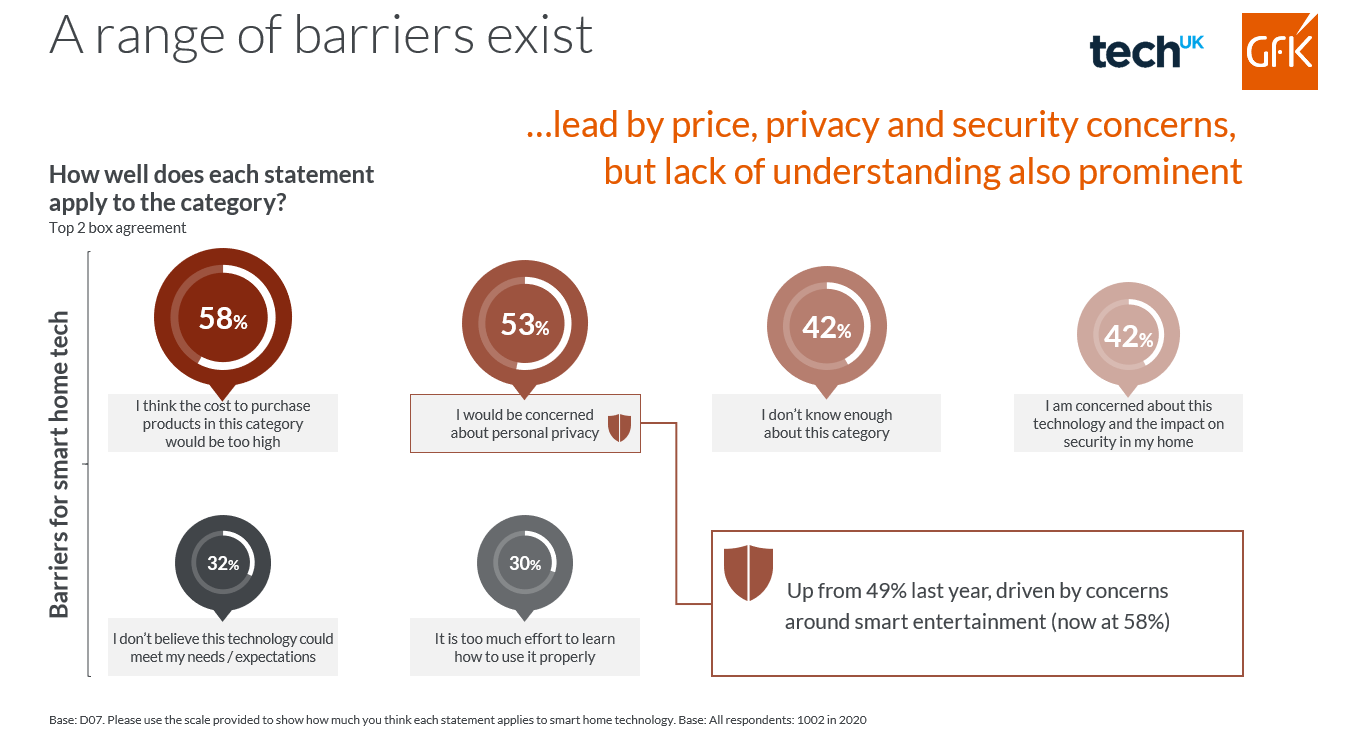 About the GfK Smart Home study
GfK Smart Home study is an annual survey conducted by GfK in partnership with techUK, and feeds into their Connected Home report. The study consists of online interviews with a nationally representative sample of 1,000 UK adults between 5th – 30th March 2020, asking about people's awareness, interest and ownership of a selection of smart home products.