Amstelveen, 13.04.2022
VOD-strijd definitief losgebarsten
Nieuwkomers veroveren hun plek
Het jaar is nauwelijks goed op stoom of we mogen alweer twee nieuwe VOD-spelers verwelkomen: Viaplay en HBO Max. HBO bereikte in de eerste maand al 3,1 miljoen personen online. De comfortabele positie van Netflix komt dan ook steeds verder onder druk te staan blijkt uit de online cijfers van GfK's GXL/DAM.
Sinds de introductie als nieuwe streamingsdienst in Nederland heeft HBO Max via haar website en/of app in maart al 3,1 miljoen personen bereikt (3.174.000 personen, 13%, leeftijd 13 jaar en ouder).
Op maandag 8 maart werd de nieuwe online streamingsdienst in Nederland geïntroduceerd. In de eerste weken zijn er meerdere activatiecampagnes gehouden, met een levenslange kortingstarief voor snelle instap abonnees.
Dit heeft voornamelijk op de website van HBO Max de meeste personen bereikt: tweederde van de bezoeken vond plaats op de website en één derde van de bezoeken op de app. Relatief gezien werd het hoogste bereik behaald onder 35-49 jarigen (28%).
Niet iedere online bezoeker werd een frequente bezoeker. Van de consumenten die online bereikt werden kwam 55% 1 of 2 dagen in de maand in contact met de website en/of app van HBO Max terwijl maar liefst 45% 3 dagen of vaker in maart HBO Max bezocht.
In vergelijking met de andere betaalde online streamingsdiensten is Netflix in Nederland met zo'n 70 miljoen bezoeken nog steeds de grootste. De twee nieuwe introducees in maart, Viaplay en HBO Max, nemen in maart gezamenlijk zo'n 22% van het totaal aantal bezoeken in van de online streamingsdiensten. Ten opzichte van januari en februari van dit jaar leveren Amazon Prime Video en Netflix in betreft online bezoeken. Het marktaandeel bezoeken van Netflix daalt van 70% naar 60%, Amazon Prime Video van 8% naar 5% en Videoland slechts licht van 24% naar 22%. Disney+ blijft gelijk in hun aandeel online bezoeken. Voor Netflix blijft het online bereik wel stabiel terwijl er voor Amazon Prime Video wel een lichte afname plaatsvindt van unieke personen in maart. Opvallend hierbij is dat meer dan de helft van de Amazon Prime Video bezoekers óók online in contact kwam met HBO Max in maart. Ditzelfde geldt voor Amazon Prime Video abonnees; zij bezochten van de streamingsdiensten relatief het meest HBO Max. Gezamenlijk bereiken de online streamingsdiensten in maart 8 miljoen personen in Nederland (op smartphone/tablet/PC/laptop), dit niveau ligt in maart 1 miljoen unieke personen hoger dan in januari.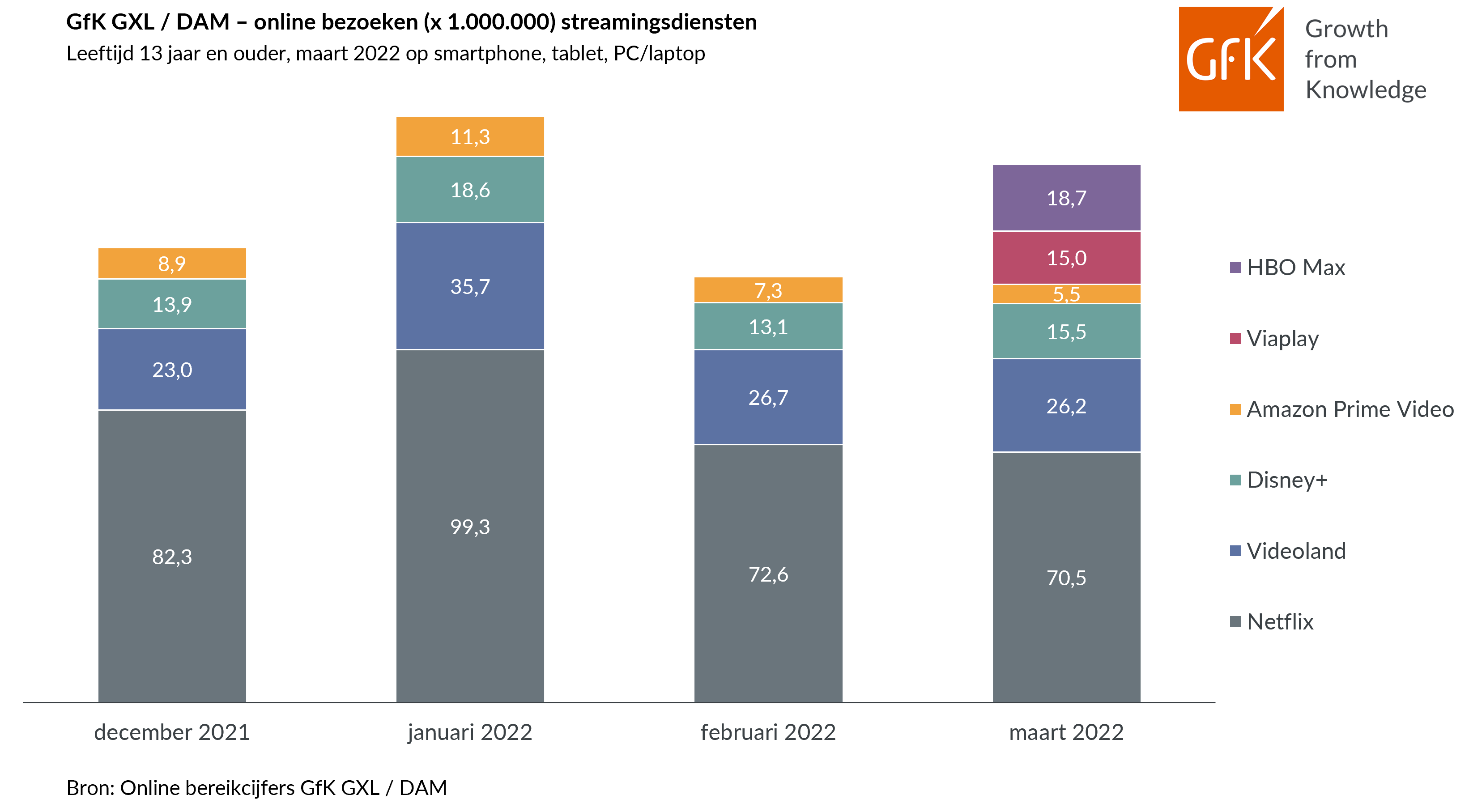 Over GfK GXL
GXL staat voor GfK Crossmedia Link, het grootschalige crossmediale panel van GfK waarin ook het aankoopgedrag wordt vastgelegd. Het online- en het televisiegedrag wordt passief en single-source gemeten. Daarnaast wordt via jaarlijkse vragenlijsten informatie verzameld over luister- en leesgedrag en ruim 350 andere achtergrond-kenmerken. Wil je meer weten over het onderzoek en de resultaten? Neem contact op met Jeroen Nikkel (jeroen.nikkel@gfk.com).
Over GfK
GfK verbindt gegevens en wetenschap. Innovatieve onderzoeksoplossingen bieden antwoorden op belangrijke zakelijke vragen rond consumenten, markten, merken en media - nu en in de toekomst. Als onderzoek - en analysepartner belooft GfK zijn klanten over de hele wereld "Growth from Knowledge"
Perscontact: Christine de Boer, T +31 6 28 11 77 11, Christine.deBoer@gfk.com