London, 13.10.2020
Technical Consumer Goods market to match last year's performance
GfK forecasts show that the global Technical Consumer Goods (TCG) market will match last year's performance for sales this year – delivering zero percent growth at an estimated market value of 1.0 trillion EUR, including North America. This significant comeback is driven by consumers' continued "at-home" focus, on top of the increased demand in areas such as IT and small domestic appliances during lockdown.
"We project that the current market recovery will continue, with several indicators pointing to a stable scenario for the crucial peak season in the last quarter of the year." explains Norbert Herzog, GfK expert for the TCG industry explains. "However, volatility in the markets will not disappear and we expect to see continued significant shifts in consumer demand patterns. The sustainable step-up of e-commerce is the most significant acceleration of such a trend shift. For retailers and manufacturers, it is a call to action to deliver the next level of omnichannel experience that consumers are demanding."
Markets move from "want" to "need"
Disruption hit the TCG markets in the advent of COVID-19. While this is somewhat disguised by a 0 percent total market growth compared to last year, the view at product category level varies considerably. For example, the Telecom/Smartphone market, which represents 40 percent of total TCG turnover, is forecast to drop -6 percent in value compared to last year, while IT/Office is expected to grow +15 percent.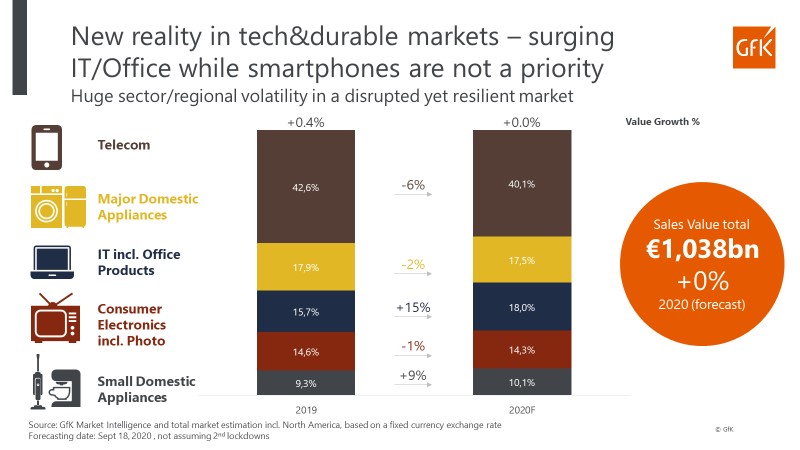 This growth in IT is the direct impact of the change in consumer shopping mindset from "I want" to "I need", as people were forced to work from home. A similar situation is seen in demand for Small Domestic Appliances, which gradually picked up during lockdowns, and continued post lockdowns – and is forecast to deliver +9 percent growth in value for the full year. Consumer electronics (-1 percent in value) and major domestic appliances (-2 percent in value) have also managed to close the gap on last year's performance, benefiting from the "cook at home" and "entertain at home" trend.
While emerging countries step back, Europe invests in TCG
More developed parts of the world are coping better with COVID-19's impact compared to emerging economies, when it comes to demand for TCG. For instance, Europe including CIS shows a growth rate of +5 percent, while emerging Asian countries are expected to decline by -6 percent as the difficult economic environment impacts consumers' ability to spend.
Sales of products featuring the important benefits of simplification, health and wellbeing accelerated substantially. COVID-19 added a lot of value to such product promises as consumers strive to manage their time at home most efficiently. For example, kitchen machines doubled in value of sales during the period of May to July 2020 versus the same period last year, while dishwashers rose by +16 percent. GfK expect growth to continue at least in the mid-term.
The focus on health and well-being similarly accelerated sales of air treatment devices (+20 percent in value May to July 2020). As hygiene starts to play a more important role in our daily lives, washing machines featuring a steam function to kill bacteria and viruses will continue to sell strongly. These registered a growth of +32 percent from May to July 2020 in value compared to the same period of last year.
---
Notes to editors
GfK regularly collects sales data in more than 70 countries worldwide for the consumer electronics, photo, telecommunications, information technology, office equipment, and major and small domestic appliance segments through its retail panels. All figures are assuming a fixed Euro exchange rate.