New York, NY 12.10.2020
Are you ready for the shopping sea change?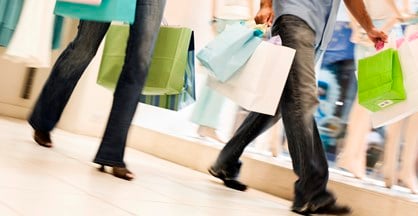 Forget what you thought you knew about your shoppers and their feelings about you. COVID-19 has hit the "reset" button and ushered in a new era of shopping behaviors and relationships with brands and retailers. Are you ready to win in this new landscape?
Shopping is being turned on its head and transformed at a pace not seen since the emergence of the Internet and birth of ecommerce. A dizzying time for brands and retailers, but also one full of opportunity. And as with every B2C transition, the winners from this crisis will be those that are obsessed with understanding and anticipating their customers' wants and needs.
Consider some of the dimensions of the shopping transformation underway. With lockdown, ecommerce has exploded and is now generating twice the share of total sales versus pre-virus levels. Ecommerce has become so vital to everyday life that Americans now say that their smartphones are the last belonging they would be willing to give up – after surrendering their cars, TVs, and washing machines.
Our routinized shopping patterns have been highly disrupted, with a majority of shoppers reporting they have been forced by COVID-19 circumstances to shop at new retailers or to buy different brands than before. And of those experiencing this "Accidental Trial," nearly a third predict that they will continue purchasing the new items even after the crisis.
And it's not just immediate shopping behaviors that are shifting; shoppers are also examining their "consumption foundations" -- what they buy from whom and why. According to a GfK Consumer Pulse survey, three-quarters of Americans report that the way they see brands behaving now will impact their dealings with them in the future. And the communication landscape has never been more precarious. It's now just as likely for virus-related messaging to evoke feelings of Appreciation as it is to trigger Frustration, the top two emotions reported.
The economic impact of the crisis, and the slower pace of life under lockdown is producing a broad wave of shopping introspection about how and what they consume. Drawing some lines between the things that are really needed and those that might be superfluous. As a result, the same GfK study reveals six in ten will "reduce purchases to save money" post-crisis.
The winners in this new shopping world will lead with insights. A core understanding of emerging shopping attitudes and behavior has never been more important. What are the new purchase journeys? What now influences final brand and product decisions? What sources do shoppers trust and how do they access them? These insights will be the raw materials that enable brands and retailers to build excellent and memorable customer experiences -- even in chaotic markets.
GfK is partnering with many of the world's leading brands/retailers to help them navigate the choppy seas of COVID-19 -- to develop the consumer and shopper insights that will inform the tough decisions they need to make in today's fast-shifting marketplace.
by Joe Beier
Joe Beier is EVP of Consumer Insights at GfK. He can be reached at joe.beier@gfk.com.