05.08.2021
What's next for brand marketing post-Covid?
Investment holds the key to brand loyalty and sustainable growth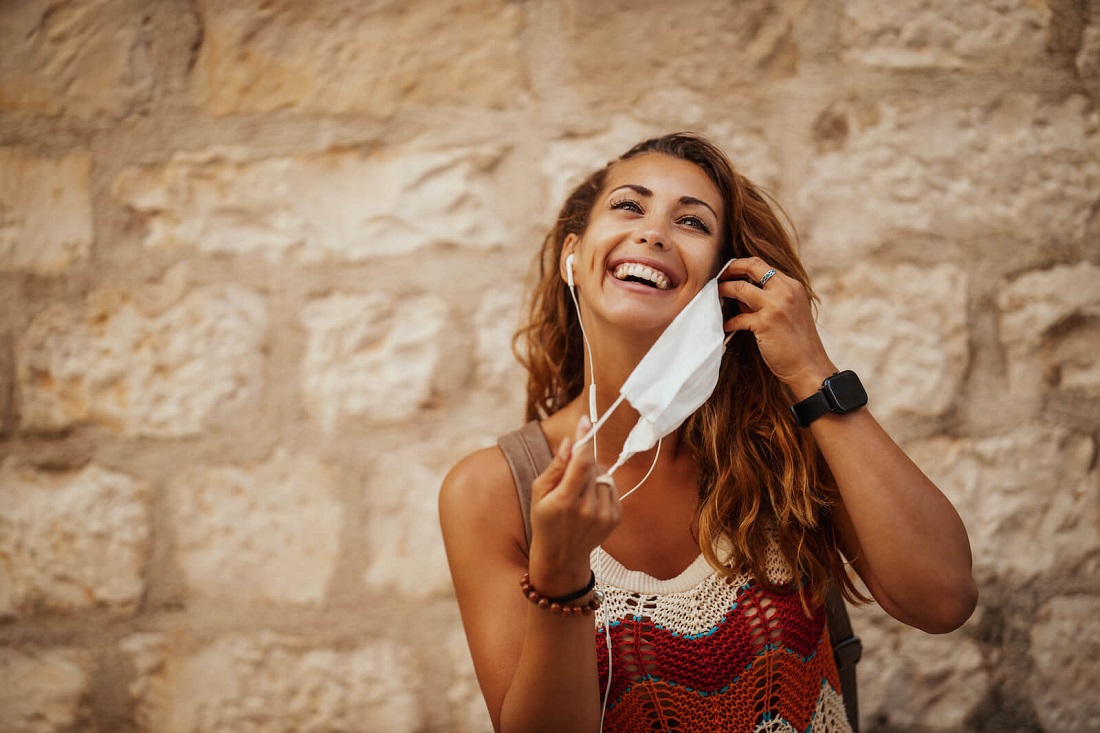 In our last Insights article, we examined some of the changes in marketing and advertising caused by Covid-19 and why some brands are thriving while others are struggling to survive. Now, we'll explore some of the trends we might see as we eventually start to move out of lockdown, and the tactics marketers will need to adopt to gain greater clarity around their marketing efforts to succeed in an ever-evolving and still uncertain landscape.
The return of traditional channels
It's unlikely that traditional marketing and advertising will bounce back to pre-Covid levels any time soon, but we're already seeing increased activity in offline channels, with TV, audio and OOH (outdoor) among the channels expected to grow in 2021.
In fact, growth is already exceeding industry expectations for the year, with global advertising predicted to rise by 19%. This includes an expected growth of 9.3% in TV advertising – partly driven by the return of major sporting events – with Connected TV+ advertising being prioritized over linear by network owners.
While digital will remain critically important for many businesses, marketers need to keep analyzing sales activity to see where their buyers are coming from. In turn, this will indicate the best platforms to reach them – which looks to be a mix of digital and traditional as we start moving into post-Covid recovery.
Ad spending across new platforms
During the pandemic, platforms such as Amazon, Pinterest and TikTok rose to the fore as key investment channels for many businesses – a trend that's likely to continue. Take Amazon, for example, which earned $21 billion from advertising in 2020 and, as a result of heavy demand, has increased its average cost per click to $1.20 in June 2021, a 30% rise.
Meanwhile, WARC reports that 44% of brands expect to increase their spending on TikTok this year, ahead of Facebook's 39%, thanks to the channel's phenomenal growth in users and activity during the 2020 lockdown.
A re-focus from short-term reaction to long-term planning
During lockdown, short-term planning and pivoting was essential due to the fast and wide-ranging changes taking place in the marketing landscape. But now, according to Forrester Research, B2C marketers will increase their spending on long-term loyalty and retention marketing by 15% in 2021, while cutting back on short-term product or performance-based campaigns.
A focus on maximizing penetration through mass marketing and the conversion of light to heavier buyers will also play a key role. This is a challenge, as evidence shows that the pandemic has eroded brand loyalties, with almost half of consumers switching to new brands during lockdown.
The brands that will recover successfully are therefore those that will focus on building lasting relationships with customers, which means adopting a long-term planning approach focused on business sustainability. Equally important will be marketers' ability to measure the effectiveness of different marketing campaign objectives and the impact of marketing on brand metrics – and in essence, both the long and short-term effects of marketing spend.
Holistic measurement and agile planning are key
"A new approach to measurement and budget planning is needed," says Spencer Ng, GfK's Marketing Analytics Lead, APAC. "Marketers need the ability to measure marketing performance and predict sales effects while accounting for significant shifts in marketing channels and consumer preferences.
"With the need to balance the short and long term, marketers need privacy safe solutions that combine to help understand the brand and sales impact across sales channels whilst unlocking critical insights into cross media reach and ROI composition and targeting accuracy beyond just demographics."
"Without these insights, it's all too easy to make the wrong investment decisions – as shown by marketers saying they waste an average of 26% of their budgets on ineffective channels and strategies. An agile approach, and the ability to optimize the marketing mix given different scenarios, will play a big role – and this is where GfK's Marketing Mix Optimizer (MMO) can help."
GfK's MMO: guiding future investment planning
Using GfK's store-level proprietary data, MMO can accurately quantify the impact of Covid-19 on your brand's sales, alongside all other key sales drivers.
"As we emerge out of the pandemic, you can use MMO to re-evaluate which media investments will work best and how your tactical and brand-building activities are playing out, and identify where they can be further optimized.
"MMO works by using advanced genetic algorithms to predict outcomes and prescribe optimal marketing mix investments to best meet your marketing objectives and enable you to communicate effectively with your audiences during these ever-changing times" explains Gavin Morgan, Marketing Analytics Lead, GfK Global.
Case study – APAC Smartphone Market
Optimization for Performance: Reallocate your media budget via simulations, based on our Marketing Mix Models*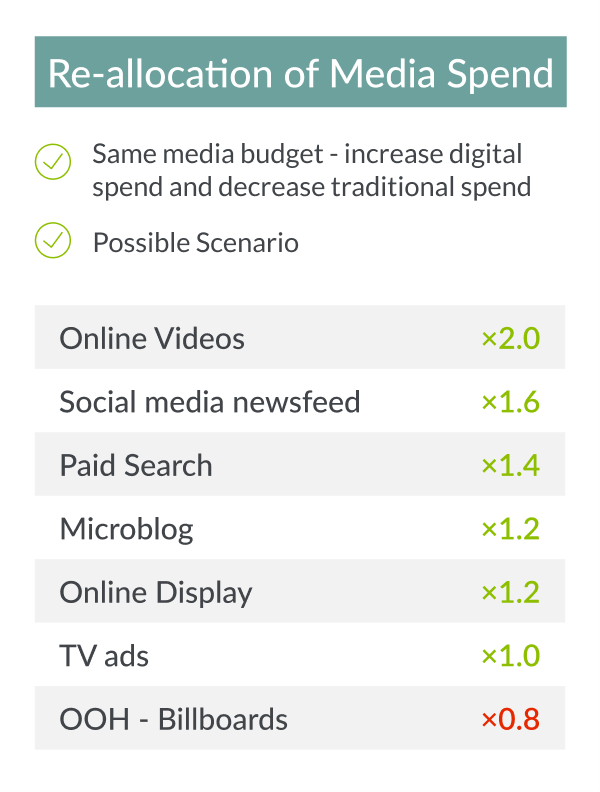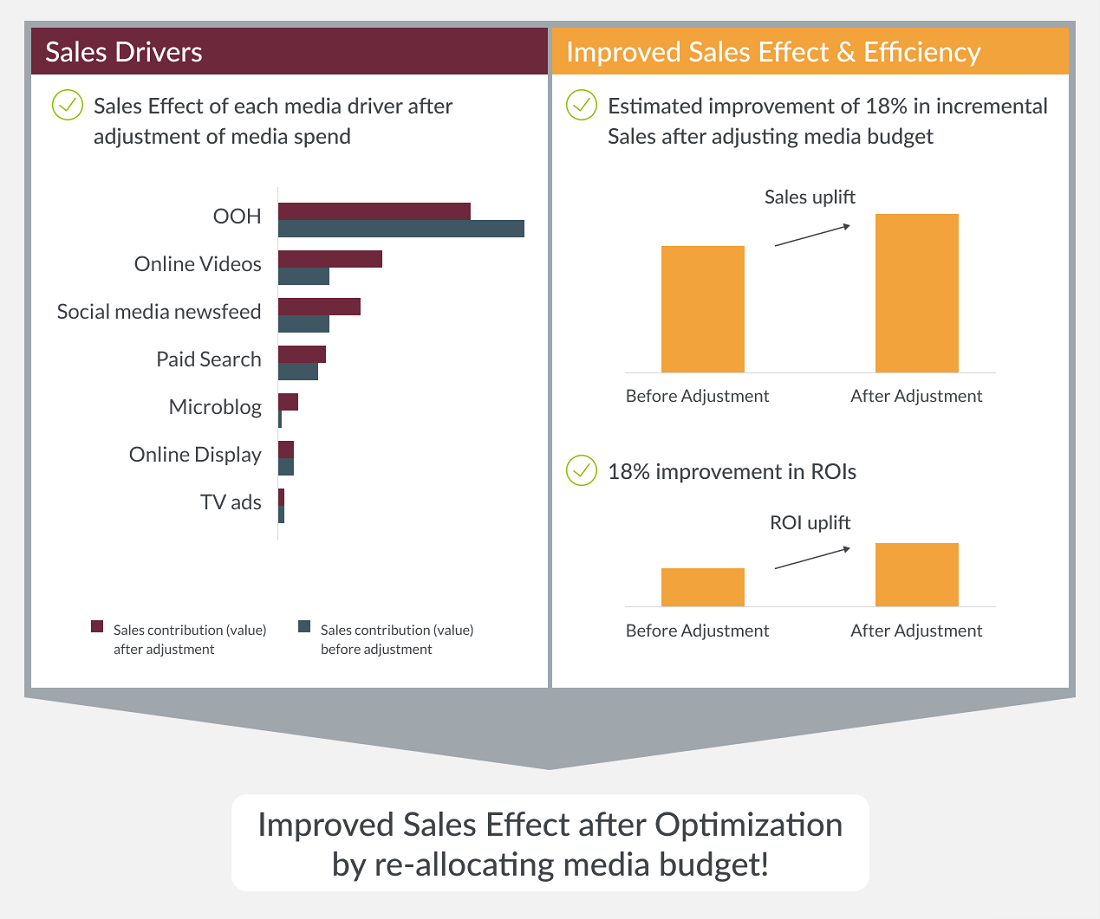 *Media budget re-allocation assuming no change in budget
Key Benefits from running an MMM
Adopt a data driven approach to decisioning
Identify drivers and barriers to commercial success from marketing activities
Set targets for commercial success and simulate how you can achieve those targets
Plan for the future and make changes to your media budget allocation
Execute revised marketing plans
Like to know more?
If you want to make sure your marketing measurement strategy ticks the right boxes and helps you make the right decisions in the uncertain world we live in, read our new White Paper: 'How to accurately measure marketing ROI in a post-Covid world.'