08.03.2022
Optics 2022: online purchase, premiumization, ECP knows best, comfort
by Sarah Bones, Global Strategic Insights Manager
By the end of last year, contact lenses, spectacle lenses, and frames were enjoying healthy recovery globally1, after the slump caused by pandemic lockdowns. Global sales of contact lenses were up 10% in value full-year 2021 vs 2020, and up 7% compared to the same period 2019 (ie pre-pandemic). Sales of spectacle lenses and frames have also rebounded following the headwinds caused by the pandemic since 2020 – up 14% 2021 vs 2020 and 1% on 20191.
At country level, however, there's a very different story. Looking at contact lenses, the USA is the massive heavy-weight– both in terms of total sales value ($7bn+ USD full-year) as well as a driver of the global uplift posting growth of 12%, both vs 2020 and vs 2019. Alongside the US, APAC – driven solely by China contributed to recovery growth vs 2019. Sales in most other regions, notably Great Britain, Germany and Japan, are still lagging behind 2019 levels. However, Italy and Spain emerged as recovery winners, together offsetting the softness in Great Britain and Germany.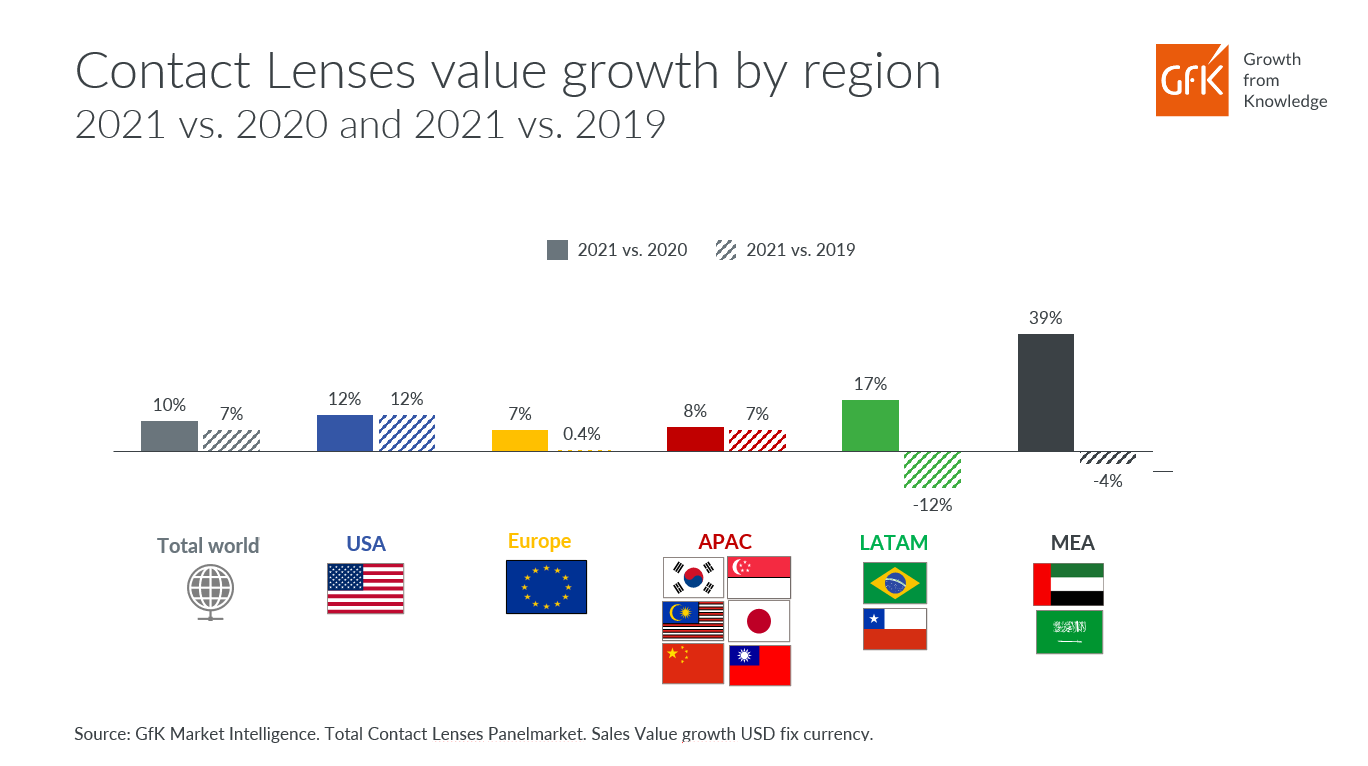 Online purchasing and premiumization are driving growth
While it has been possible to get eye tests over the last two years, rigid hygiene measures and subsequent backlogs with appointments have made in-person visits less convenient. People put off appointments unless they were critical. At the end of last year, less than half of the populations of the UK and USA had attended an eye exam in the previous 12 months2.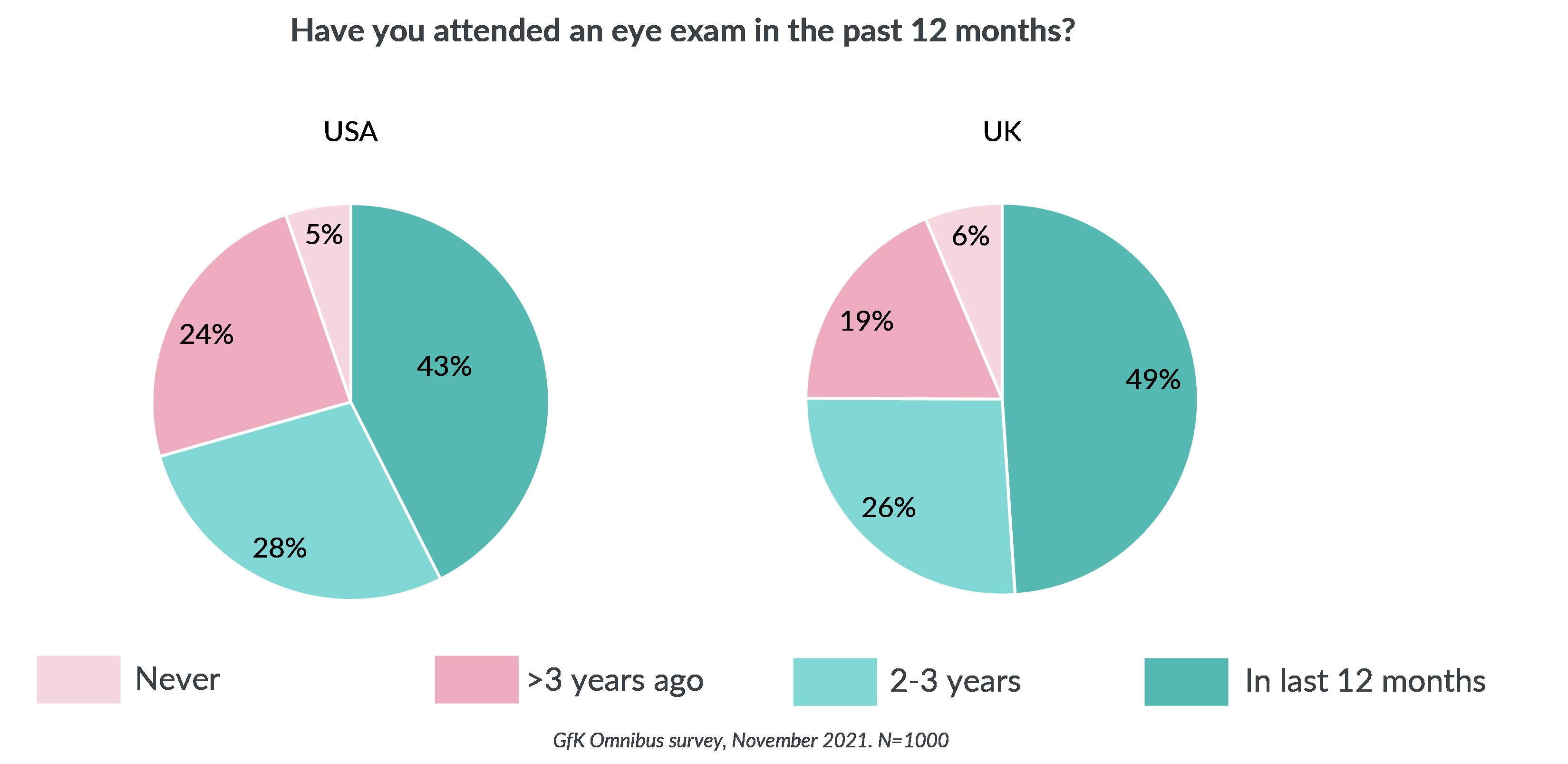 Pharmacies and online retailers gained busines over this period at the cost of brick & mortar opticians. The online share of contact lens sales grew significantly in 2020 – and the trend continued into 2021, with almost all markets maintaining or exceeding that growth.
Another core trend seen across several sectors is premiumization. For contact lenses, we saw agrowth in sales value being driven by a switch to more premium silicone hydrogel lenses and consumers paying more for the convenience of daily lenses. On account of this dynamic, average price per monthly wear rose across almost all regions, with the exception of the Middle East where online and pharmacies gained share, adding downward price pressure.
Top influencers for brand and product choice
Looking at what is influencing the contact lens product and brand that people buy, both the USA and UK markets are driven heavily, and in equal amounts, by the eyecare provider's recommendation and by lens comfort, both trumping price.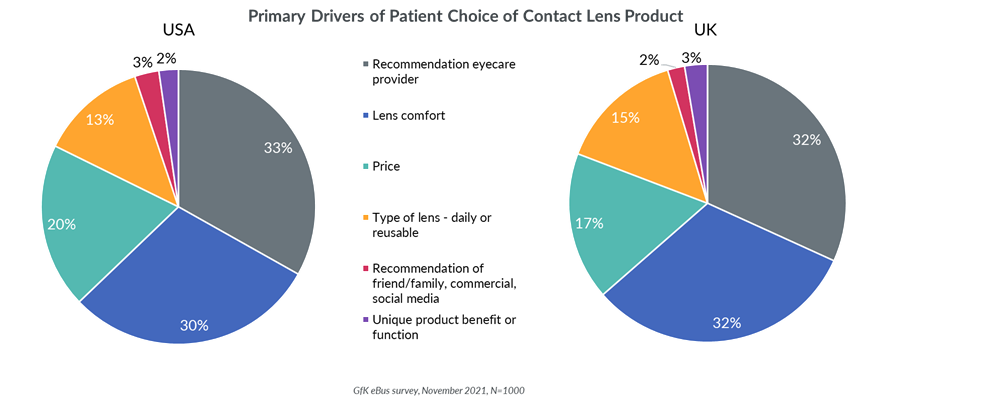 What the experts say: the trends to watch in UK and USA
GB market - Paul York:
We have seen continued transition from reusables into more expensive daily lenses through 2021. This is likely driven by the 'at home' trend that's encouraged people to wear lenses part-time and skip to spectacles for 'at home' days of wear. This has allowed them to offset the increased price of upgrading to daily lenses and the extra convenience those bring.
In most cases, this is likely to bring additional revenue to Opticians over the coming year, thanks to the price differential meaning that a daily patient will still spend more on average than a reusable patient, even if wearing their lenses only 3 days a week. However, as economic and inflationary pressures mount in the UK over the coming months, the price-convenience equation between daily and reusable lenses is likely to alter once more with reusables perhaps standing to benefit.
USA market - James Pasel:
Ever since Contact Lens pure players entered the market decades ago, eye care providers (ECPs) have been slowly yet steadily adopting eCommerce solutions to sell contact lenses to their patients. The purpose was to mainly compete with the pure players, but also to stay relevant to their patients' changing shopping preferences.
The pandemic changed this from a timing perspective: It forced ECPs to adopt an online presence more quickly, since during the lockdowns, if an ECP didn't already have an online presence or speedily activate one, patients flocked to the many convenient eCommerce sites available to make their purchases. Prior to the pandemic, approximately 17% of the sales were conducted online. In April 2020 (when the majority of retail doors were closed), online sales ramped up to 39% - a drastic change almost overnight. As doors began to re-open with new COVID-19 protocols in place, online sales leveled out at 19% (of overall category sales) by July 2020.
For 2022, we expect eCommerce will continue to play an important role, as ECPs utilize newer technology and more patient-friendly methods like online chat or SMS that provide flexible and convenient ways for ordering contact lenses.
Currently, daily disposable lenses make up 50% of the USA market in value sales and there's room for growth! Premiumization within the contact lens space will continue to develop as more Silicone Hydrogel options become available for patients, especially within the growing Toric and Multifocal segments.
Price will also continue to be top of mind for consumers as inflation takes hold and patients watch their dollars more closely. This makes the "value" end of the Daily Disposable spectrum the key area to watch in the coming months. Reusable lenses are likely to be a more viable option for cost-conscious patients – and that's a positive, since there is innovation occurring within that segment too.
---
Footnotes:
1. Markets included in Contact Lenses: Denmark, France, Germany, Great Britain, Italy, Netherlands, Norway, Poland, Russia, Spain, Sweden, China, Japan, South Korea, Malaysia, Singapore, Taiwan, Brazil, Chile, United Arab Emirates, Saudi Arabia, United States of America. Markets included in Spectacle Lenses and Frames: Japan, France, Germany, Great Britain, Italy, Spain, Russia, Taiwan, United Arab Emirates.
2. GfK Omnibus Survey, November 2021. UK, USA, Germany. n=1000 per market