London, 22.01.2021
Vaccination not yet a jolt in the arm for UK consumer confidence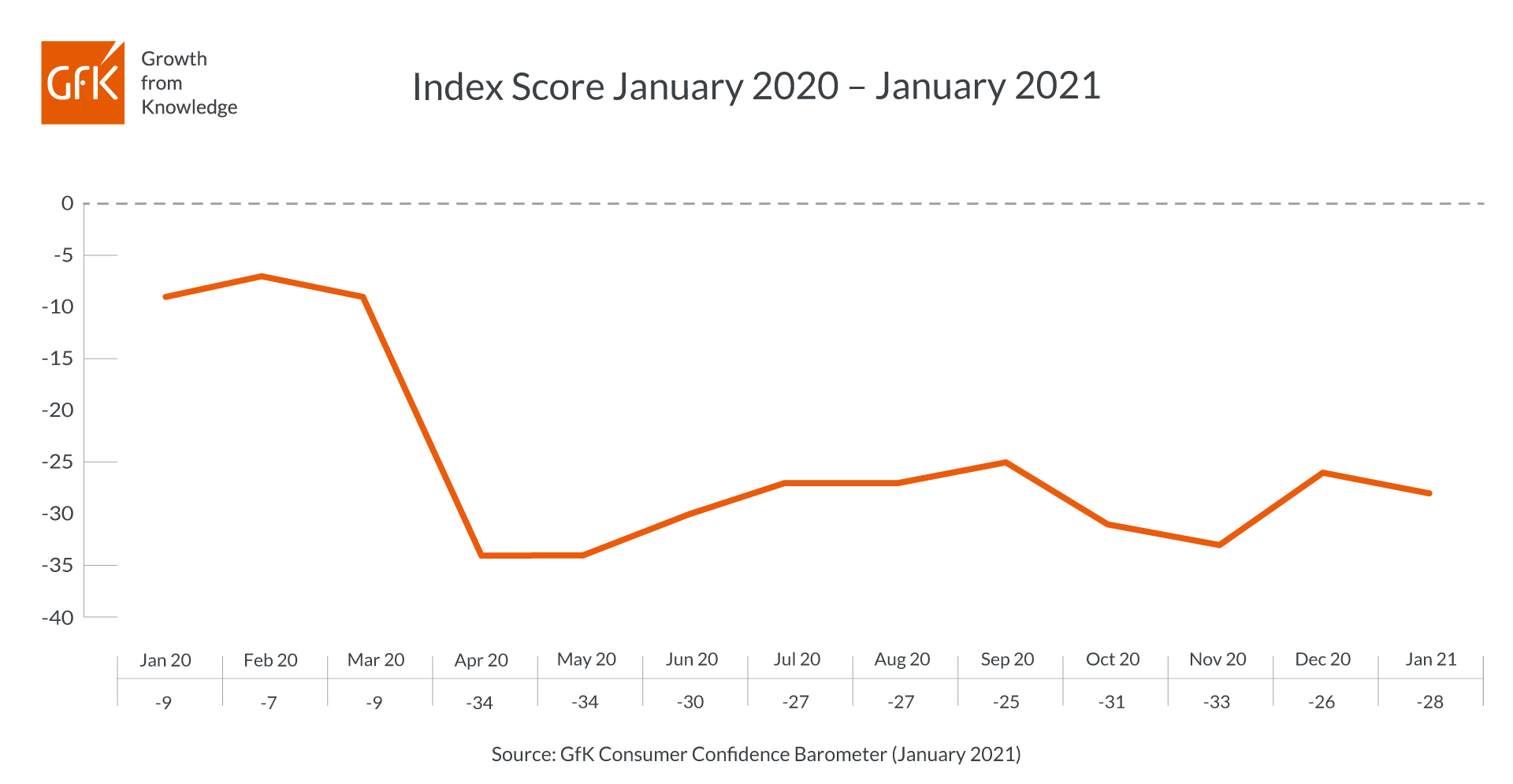 Joe Staton, GfK's Client Strategy Director, says: "Despite the widespread anticipation of a 'return to normal' with the ramp-up of the vaccination programme, it is too early to deliver a jolt in the arm to UK consumer confidence.
"Our view of the general economic situation still makes for grim reading, especially expectations for the coming year, which shows a nine-point drop. This continues to suppress the overall index, which is further dampened by a weak major purchase score, as reflected in retail sales figures across the country.
"However, the key is how we all view our personal financial situation for the next 12 months. Confidence in this figure reflects our financial hopes and fears, as well as those of our families and loved ones, and it seems to be holding up. This is positive news because, amid widespread uncertainty over jobs and livelihoods, any decline in how we see our personal finances in the year to come would be a clear warning for the economic outlook."
UK Consumer Confidence Measures – January 2021
The Overall Index Score decreased two points to -28 in January. Four measures decreased in comparison to the December 18th announcement and one measure increased.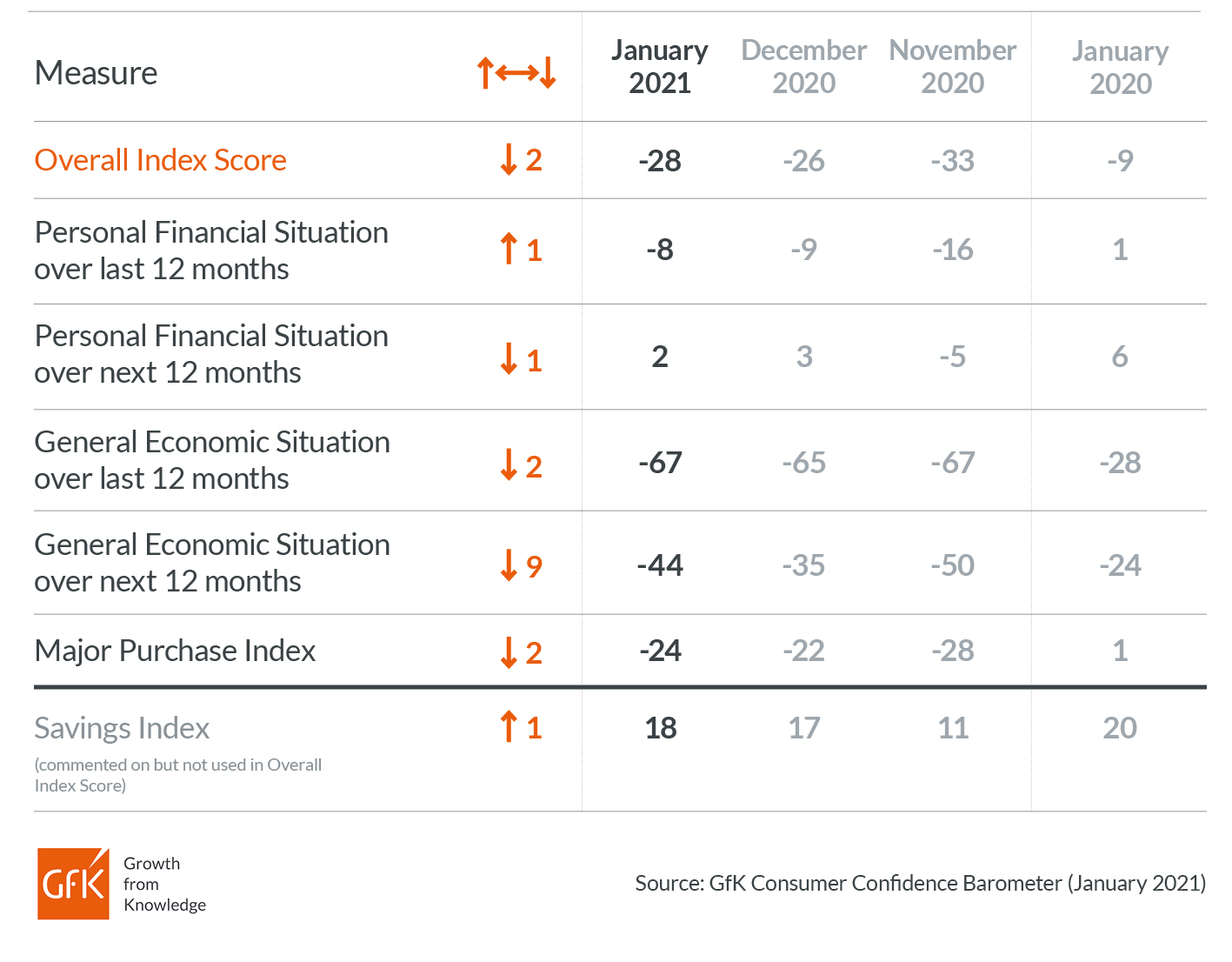 Personal Financial Situation
The index measuring changes in personal finances over the last 12 months is up one point to -8; this is nine points lower than January 2020.
The forecast for personal finances over the next 12 months is down one point this month at +2; this is four points lower than January 2020.
General Economic Situation
The measure for the general economic situation of the country during the last 12 months is down two points at -67; this is 39 points lower than in January 2020.
Expectations for the general economic situation over the coming 12 months are down nine points; this is 20 points lower than January 2020.
Major Purchase Index
The Major Purchase Index has decreased by two points to -24 in January; this is 25 points lower than it was in January 2020.
Savings Index
The Savings Index has gone up by one point only to +18 in January; this is two points lower than this time last year.
Download the charts for GfK Consumer Confidence January 2021:
-----------------
About the survey
The UK Consumer Confidence Barometer is conducted by GfK.
This month's survey was conducted among a sample of 2,002 individuals aged 16+.
Quotas are imposed on age, sex, region and social class to ensure the final sample is representative of the UK population.
Interviewing was carried out between 4th January to 13th January 2021.
The figures contained within the Consumer Confidence Barometer have an estimated margin of error of +/-2%.
The Overall Index Score is calculated using underlying data that runs to two decimal points.
The confirmed date of the next press release is February 19th. The following three confirmed dates for 2021 are: March 19th, April 23rd and May 21st.
Any published material requires a reference to GfK e.g. 'Research carried out by GfK'.
This study has been running since 1974. Back data is available from 2006.
The table below is an overview of the questions asked to obtain the individual index measures:



Personal Financial Situation

(Q1/Q2)

This index is based on the following questions to consumers: 'How has the financial situation of your household changed over the last 12 months?'

'How do you expect the financial position of your household to change over the next 12 months?' (a lot better – a little better – stay(ed) the same – a little worse – a lot worse)

General Economic Situation

(Q3/Q4)

This index is based on the following questions to consumers: 'How do you think the general economic situation in this country has changed over the last 12 months?'

'How do you expect the general economic situation in this country to develop over the next 12 months?'

(a lot better – a little better – stay(ed) the same – a little worse - a lot worse)

Major Purchase Index

(Q8)

This index is based on the following question to consumers: 'In view of the general economic situation, do you think now is the right time for people to make major purchases such as furniture or electrical goods?'

(right time – neither right nor wrong time – wrong time)

Savings

Index

(Q10)

This index is based on the following question to consumers: 'In view of the general economic situation do you think now is?' (a very good time to save – a fairly good time to save – not a good time to save – a very bad time to save)

(Commented on but not included in the Index Score)