Amstelveen, 20.02.2023
Invoering energie prijsplafond zorgt voor piek online bereik energieleveranciers
Na invoering van de energie prijsplafond is in januari 2023 het online bereik van Nederlandse energieleveranciers gestegen naar een ruim 7,7 miljoen personen (GfK GXL DAM, 51,4%, 7.706.000 personen van 13 jaar en ouder). Ten opzichte van een jaar eerder is dat een stijging van meer dan 55%, ofwel 2.756.000 personen.

Relatief gezien is de stijging het grootst in de drie grote gemeenten (Amsterdam/Rotterdam/Den Haag) en randgemeenten, daar steeg het online bereik met meer dan 70 procent ten opzichte van een jaar eerder. In de provincies Flevoland en Groningen ligt het aandeel bereikten in januari het hoogst: in beide provincies bezochten ruim meer dan de helft van de inwoners één of meerdere energieleveranciers online.
Actuele informatie over het energie prijsplafond was veelal de aanleiding voor de piek in bereik, die al in de eerste week van januari werd behaald. Ook maakten verschillende leveranciers toen de nieuwe tarieven bekend.
Deze verhoogde aandacht voor de energiemarkt droeg ook bij aan een hogere bezoekfrequentie: meer dan 60% van de online bezoekers in januari bezocht, op drie verschillende dagen of vaker, online één of meerdere energieleveranciers.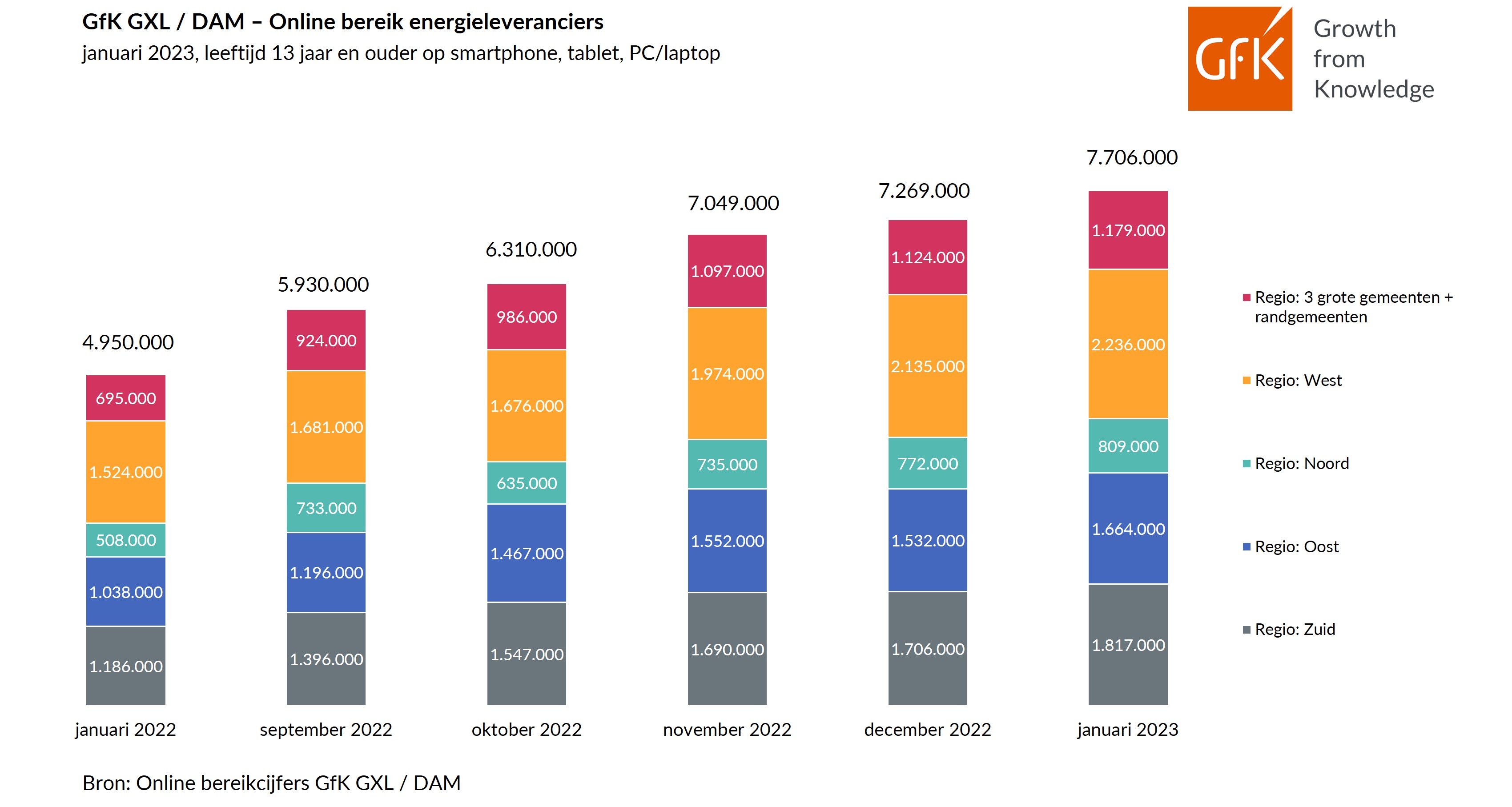 Tussen Vattenfall en Budget Energie blijkt de grootste online overlap: meer dan een derde van Vattenfall-bezoekers hebben ook Budget Energie in januari bezocht.
Bron: GfK GXL DAM, PC/Laptop, smartphone, tablet: het online bereik van de energieleveranciers betreft de websites en apps van de merken: Budget Energie, Delta Energie, Easyenergy, Energiedirect, Eneco, Engie, Essent, Frank Energie, Greenchoice, Nederlandse Energie Maatschappij, Oxxio, Powerpeers, Pure Energie, Vandebron, Vattenfall.
Rapport: alle resultaten zijn samengevoegd tot een beknopt rapport, betreffende bereik per doelgroep, online overlap merken, gebruiksintensiteit merken.
Meer informatie over het onderzoek en de resultaten is te verkrijgen bij Jeroen Nikkel, consultant Media Measurement (jeroen.nikkel@gfk.com).


Over GfK GXL
GXL staat voor GfK Crossmedia Link, het grootschalige cross mediale panel van GfK waarin ook het aankoopgedrag wordt vastgelegd. Het online- en het televisiegedrag wordt passief en single-source gemeten. Daarnaast wordt via jaarlijkse vragenlijsten informatie verzameld over het luister- en leesgedrag en ruim 350 andere achtergrond-kenmerken.
Press contact: Jeroen Nikkel, T ++3188435-1000, jeroen.nikkel@gfk.com