Bruchsal 17.08.2022
Map of the Month: GfK Regional Consumer Styles, Safety-seekers, Germany 2022
GfK's Map of the Month for August shows the regional distribution of safety-seekers in Germany in 2022.
Inflation is currently the Germans' greatest fear: Current July data from GfK shows that 80 percent fear supply bottlenecks for oil, gas and petrol as well as rising food prices. The group of safety-seekers is the most cautious when it comes to planning their expenditures. Safety-seekers place great value on safety and stability in their lives, embrace traditional values and seek satisfaction through work. At the same time, they also want to enjoy their lives, like listening to music or taking care of their home. But where in Germany do most safety-seekers live?
According to GfK's recent study on regional consumer styles, the urban district of Gera has the highest share of this group at 11.00 percent, followed by the urban district of Gelsenkirchen (10.57 percent) and the rural district of Recklinghausen (10.44 percent). In the last-placed rural district of Schleswig-Flensburg, only 4.80 percent of all inhabitants are safety-seekers.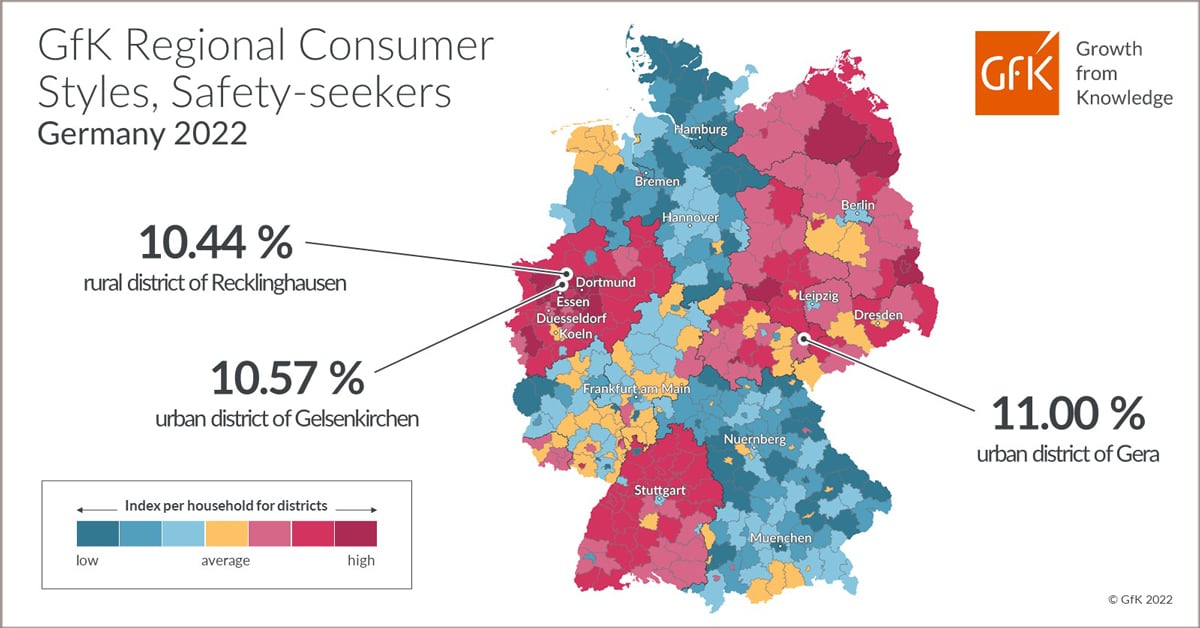 Download the map in high-resolution JPG format...
GfK Regional Consumer Styles segments consumers into nine distinct groups with different specific consumer behaviors, motivations, needs and values. This knowledge allows companies from all industries to tailor their communications to inspire more interest among their target customers.
The map may be freely distributed and reproduced if the following attribution is included: "Illustration: GfK".
Further insights into GfK's market data offering can be found here.