London 22.07.2021
From stay at home to smart home
2020 was a bumper year for Smart Home take-up as people embraced the potential benefits that smart devices and products offer around the home. We ask our Smart Home expert Trevor Godman to answer four questions from our clients following our Smart Home Webinar. You can tune in to the recording here.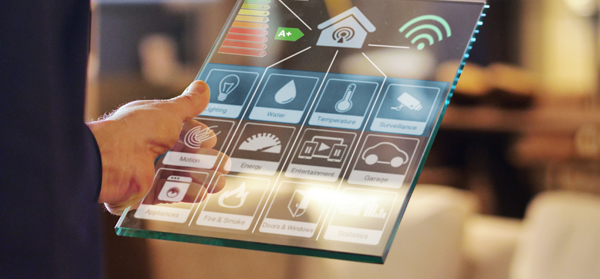 1. Covid Boost: Which categories grew in lockdowns?
Trevor says: "The pandemic provided a huge boost to smart home sales with roughly 4 million additional units sold in the year to 31st March 2021 compared with the previous year – a growth rate of 22%. There was strong growth across almost all smart home categories, reflecting the way lockdown changed our lives:
Entertaining at home: We spent more time streaming TV at home, so we bought smart TVs.
Exercising from home: Unable to go to the gym or play team sports, we bought fitness trackers to help us keep active.
Shopping at home: Embracing online shopping, we bought smart doorbells to boost confidence around home delivery in the middle of a pandemic.
2. In Control: Are smart speakers the hub for the smart home?
For most users, smart speakers are used as speakers first and foremost – for playing music, checking the news and weather and, from time to time, searching for information. Of the almost 40% of consumers who have a smart speaker at home, just under half say they have connected them to other devices within their home 'ecosystem'.
By and large, people use their smartphones as the default device for controlling smart devices within their homes. Our phones are almost always just an arms-length away – whether we are at home or out and about – and are the first device we reach for.
3. The Future: Which categories are consumers most interested in buying next?
Smart entertainment continues to enjoy strong consumer interest. This is the area of smart home that provides the strongest sense of reward or gratification, and the size of the TV and speaker markets means that volumes are sure to remain high. Two other areas attract strong levels of consumer interest:
Safety and security: Security cameras, alarm systems and smart doorbells all have high levels of consumer interest with more than one quarter of consumers saying they are either planning to buy or are interested in buying in each category.
Energy efficiency: Smart thermostats, energy management apps and smart plugs are on the radar for many, tying in with a growing trend toward environmentally conscious behaviour, and supported by take up of smart metering.
4. Under the skin: Why are consumers choosing smart devices?
The disruption to our lives brought on by the pandemic – including the changes to our disposable income – has undoubtedly driven the surge in adoption of smart home devices. Consumers expect new smart devices to be easy to use and to play nicely with the other devices they have at home. And the evidence suggests that those expectations are being met.
Fundamentally, they also expect smart devices to make their lives easier. What that means in concrete terms will vary from category to category and we encourage manufacturers to focus their communication on the category-specific benefits that smartness brings to each device not on being "smart" – what does your new heating-control system allow householder to do differently? How does your new kitchen appliance help busy parents to keep on top of the chores?
Towards the future
With nearly a quarter off UK consumers now having at least three smart home devices in their homes – not counting smartphones, laptops and tablets – the interoperability of these products is becoming increasingly important. Manufacturers and service providers will be looking to address this to maintain the momentum in creating smarter homes for the future.
Want to be smart home ready? Listen to our webinar and discover more.