Posiadanie aktualnych insightów na poziomie krajowym pozwala na organizowanie swojej strategii promocji e-handlu, aby uzyskać maksymalne efekty.
Jako specjalista od marketingu musisz strategicznie dostosowywać swoje działania, aby dotrzeć do konsumentów, niezależnie od tego, gdzie się oni znajdują. Dogłębne zrozumienie różnic lokalnych i regionalnych jest więc niezbędne. Najlepszy sposób dotarcia do konsumentów w jednym kraju niekoniecznie jest najlepszym sposobem na dotarcie do nich w innym kraju, szczególnie jeśli dynamika kanałów online i offline w nich się różni – co wykaże porównanie dostępnych danych.
Na przykład jeśli chodzi o cały świat, jeden na każde cztery dolary amerykańskie przeznaczone na techniczne produkty konsumpcyjne jest wydawany w transakcjach online, ale to nie oznacza, że jest to uniwersalna recepta na rozwój na całym świecie. Na niektórych rynkach sprzedaż internetowa nawet przyhamowała. E-handel generuje od prawie zera do ponad jednej trzeciej obrotów. Postrzeganie handlu internetowego także się różni – od kanału premium opierającego się na promocjach do kanału masowego, oferującego korzystny stosunek wartości do ceny.
Im bardziej szczegółowe insighty dotyczące trendów sprzedaży online na poziomie kraju posiadasz, tym lepiej możesz zaplanować swoje działania marketingowe i ocenić ich efektywność. Dodatkowo możesz wówczas opracować optymalne strategie wprowadzania produktów na rynek i wybrać do współpracy detalistów online i offline, którzy zapewnią ci maksymalną sprzedaż.
Śledzenie punktów sprzedaży staje się nieocenionym narzędziem dostarczającym regionalne i lokalne insighty potrzebne do podejmowania trafnych decyzji strategicznych. Powiedzmy sobie szczerze: uniwersalne podejście typu "jedno i to samo rozwiązanie dla wszystkich" nie sprawdza się w praktyce. Poniżej wyjaśniamy dokładnie, dlaczego.
Globalnie sprzedaż online rośnie, ale…
Gdzie znajduje się punkt równowagi pomiędzy handlem online i offline? Widać już oznaki, że w krajach, w których sprzedaż internetowa jest bardziej dojrzała, wzrost nie następuje już tak szybko. Globalnie w pierwszej połowie 2019 roku e-handel wzrósł i obecnie generuje około 24% wszystkich przychodów (+1,6 p.p.) – dynamika jego wzrostu spadła w porównaniu z poprzednimi latami, gdy wynosił on prawie 3 p.p. rocznie.
Jednak globalna perspektywa zaciemnia lokalne niuanse. W sektorze sprzedaży online na czele znajdują się Chiny, z udziałem wynoszącym 36%. Na rynku chińskim i innych zaawansowanych rynkach zaciera się granica pomiędzy handlem internetowym i tradycyjnym. Na przykład firmy prowadzące wcześniej działalność handlową wyłącznie w Internecie zaczęły prowadzić sprzedaż także w sklepach tradycyjnych, aby dotrzeć do klientów niezależnie od kanału. Wielu tradycyjnych detalistów uruchomiło sklepy internetowe, aby dodać cyfrowe przeżycia do tradycyjnej wyprawy do sklepu stacjonarnego. Oferta bezproblemowego wielokanałowego podejścia podważa obecne rozumienie pojęć e-handlu i tradycyjnego handlu detalicznego.
Inne regiony, takie jak Bliski Wschód, Afryka czy azjatyckie rynki wschodzące (z wyłączeniem Chin), znajdują się na o wiele wcześniejszym etapie ewolucji handlu online. Sprzedaż online w takich miejscach odpowiada za około 5% obrotów, w porównaniu z 36% w Chinach.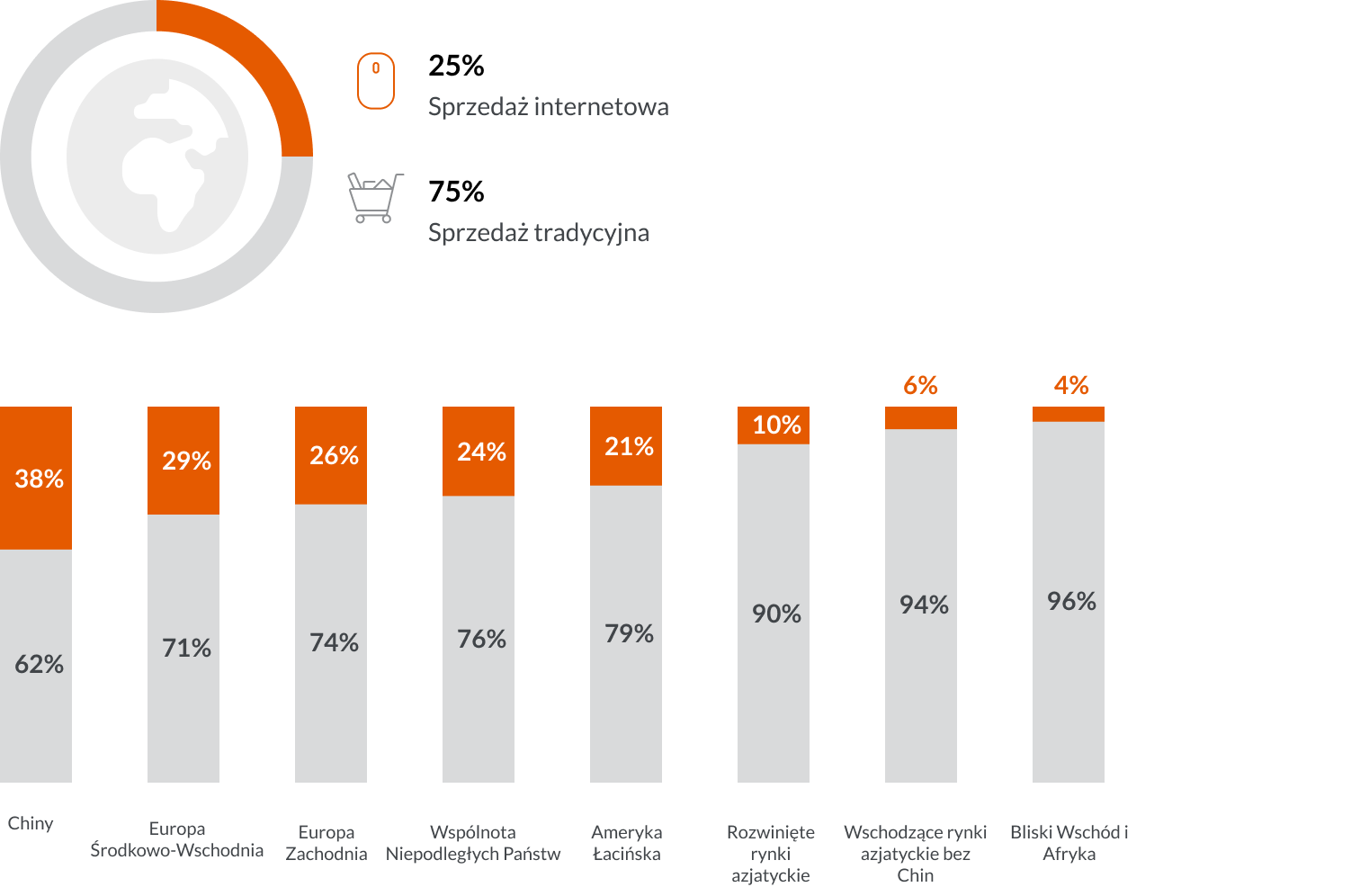 Ceny w e-handlu odzwierciedlają rozwój społeczno-gospodarczy danego regionu
Sposób postrzegania sklepów internetowych na różnych rynkach nie zależy tylko od oferowanego asortymentu produktów, ale także od społeczno-gospodarczej sytuacji na rynku i stopnia, w jakim przyjął się na nim handel internetowy. Na niektórych rynkach to głównie bardziej zamożni konsumenci mają dostęp do zakupów online. Sprzedawcy detaliczni zareagowali na tę sytuację, oferując im produkty marki premium. Tak sytuacja wygląda w Brazylii, gdzie handel online oferuje wyroby świetnej jakości przy wysokich cenach średnich. Z pomocą promocji online konsumenci nabywają produkty premium po atrakcyjnych cenach, co znajduje odzwierciedlenie w ponadprzeciętnym wskaźniku cen wynoszącym prawie 140% w porównaniu z całkowitym rynkiem obejmującym sprzedaż online.
Sytuacja wygląda inaczej na ogromnym internetowym rynku chińskim: zakupy za pośrednictwem internetu są tam bardzo popularne i detaliści internetowi stosują podejście typowe dla rynku masowego odbiorcy (czemu sprzyjają proste w użyciu systemy płatności oparte na aplikacjach) sprzedając tam tanie produkty po minimalnych cenach. W wyniku tego wskaźnik cen wynosi poniżej 60%. Na obu rynkach zauważalna jest konwergencja, ale w dalszym ciągu daleko im do średniego wskaźnika cen w wysokości 100%.

Idealny dobór asortymentu: zrównoważenie sprzecznych potrzeb klientów
Przy tworzeniu strategii e-handlu należy uwzględnić nie tylko aspekty społeczno-ekonomiczne – liczą się także potrzeby i pragnienia indywidualnych konsumentów. Sposób postrzegania oferowanych produktów przez konsumentów zależy od etapu ścieżki zakupowej, na którym znajdują się oni w danym momencie. Na przykład dla kupujących na etapie rozpoznania, którzy nie wiedzą jeszcze, co kupić, zbyt szeroki wybór może stanowić barierę przy podejmowaniu decyzji. Średnio kupujący mają do wyboru 2,7 raza więcej produktów online niż w tradycyjnym sklepie. Nadmierny wybór jest typową obawą konsumentów: 59% klientów na całym świecie twierdzi, że "w wielu kategoriach produktów, które kupuję, istnieje zbyt szeroki wybór" (badanie GfK FutureBuy, 2019). Z drugiej strony w przypadku kupującego, który znajduje się na końcu swojej ścieżki zakupowej i jest gotowy dokonać zakupu, sklep online z dużym asortymentem może zmaksymalizować jego przewagę.

Wybór zarówno produktów, które można dotknąć, jak i dostępnych w postaci cyfrowej, to rozwiązanie przez konsumenta pożądane. W sklepach stacjonarnych detaliści muszą oferować odpowiedni asortyment produktów, aby przy podejmowaniu decyzji o zakupie konsument zwrócił się w odpowiednim kierunku. Jeśli konsument chce uzyskać dostęp do większej liczby wariantów produktu, może to zrobić wirtualnie w sklepie stacjonarnym lub w magazynie centralnym.
W strategii promocji e-handlu nie sprawdza się uniwersalne podejście typu "jedno i to samo rozwiązanie dla wszystkich"
W związku z tym chociaż zwiększenie globalnej sprzedaży może być ostatecznym celem strategii promocji e-handlu, jego osiągnięcie może zależeć od uwzględnienia lokalnych niuansów. Język stanowi oczywistą różnicę; lokalny urlop, wydarzenia lub typowe dla danej kultury aspekty komunikacji często są czynnikami, których nie uwzględnia się przy dostosowywaniu oferty do lokalnych rynków. Jednak, jak pokazują dane, jest to zdecydowanie poważniejsza kwestia. Pomimo tego, że e-handel z natury wydaje się globalny, doświadczenia i zachowania klientów mają i zawsze będą mieć charakter lokalny – jeśli promocje mają zakończyć się sukcesem, muszą być odpowiednio do nich dopasowane. Insighty dotyczące punktu, w którym dany region znajduje się pod względem ewolucji handlu internetowego lub lokalnej społeczno-ekonomicznej sytuacji rynkowej, a także etapu ścieżki zakupowej, na którym konsumenci znajdują się w danym momencie, mają krytyczne znaczenie dla optymalizacji realizacji lokalnych kampanii. Nasze informacje rynkowe dostarczają całej tej lokalnej wiedzy, a nawet więcej: ucz się lokalnie – odnoś sukcesy globalnie.