UK 12.08.2022
Finding Opportunities in the Gin Market
With GfK Brand Architect
Gin has experienced a renaissance in recent years. New brands continue to enter the market, offering exciting flavours and a whole range of 0% alcohol options too. However, more brands equal more competition, so how can gin brands make sure they stand out in a crowded market? We have used GfK Brand Architect to evaluate the opportunities in the UK market today.
What makes a strong gin brand?
A strong brand not only has a high Brand Choice (where shoppers select one brand over others) but also has a Brand Premium that makes shoppers willing to pay more. Power Brands have the ability to enjoy both Brand Choice and Brand Premium.
The strongest brand in the gin market is Diageo-owned Gordon's. Its mass-market popularity at an affordable price point has helped it achieve Mainstream Brand status, which places it in the bottom right quadrant on the diagram. However, shoppers are not necessarily willing to pay more for the brand, which means competitor activity such as price promotions and advertising may persuade consumers to switch.
Pernod Ricard's Beefeater gin is another mainstream brand, driven principally by Brand Choice rather than Brand Premium. Another Diageo-owned gin brand, Tanqueray, and Bacardi's Bombay Sapphire sit in similar territory, although both enjoy much stronger Brand Premium scores than Beefeater, as the Category Navigation Grid shows.
Achieving Power Brand status
The Category Navigation Grid shows how brands are performing in terms of Brand Choice and Brand Premium and can be used to provide guidance on your future brand strategy. The desired position for a brand is 'Power Brand' (high Brand Choice and high Brand Premium), but interestingly for the gin category, none of the brands enjoy this elevated status.
Using Brand Architect, we carried out a switching analysis which showed that Beefeater has the potential to grow share strongly – particularly if the price is right. Our research also shows that Beefeater has one of the lowest Brand Premium scores so is particularly at risk from price cuts and promotions from the brands that brands consumers are typically willing to pay more for - Bombay Sapphire and Tanqueray for instance.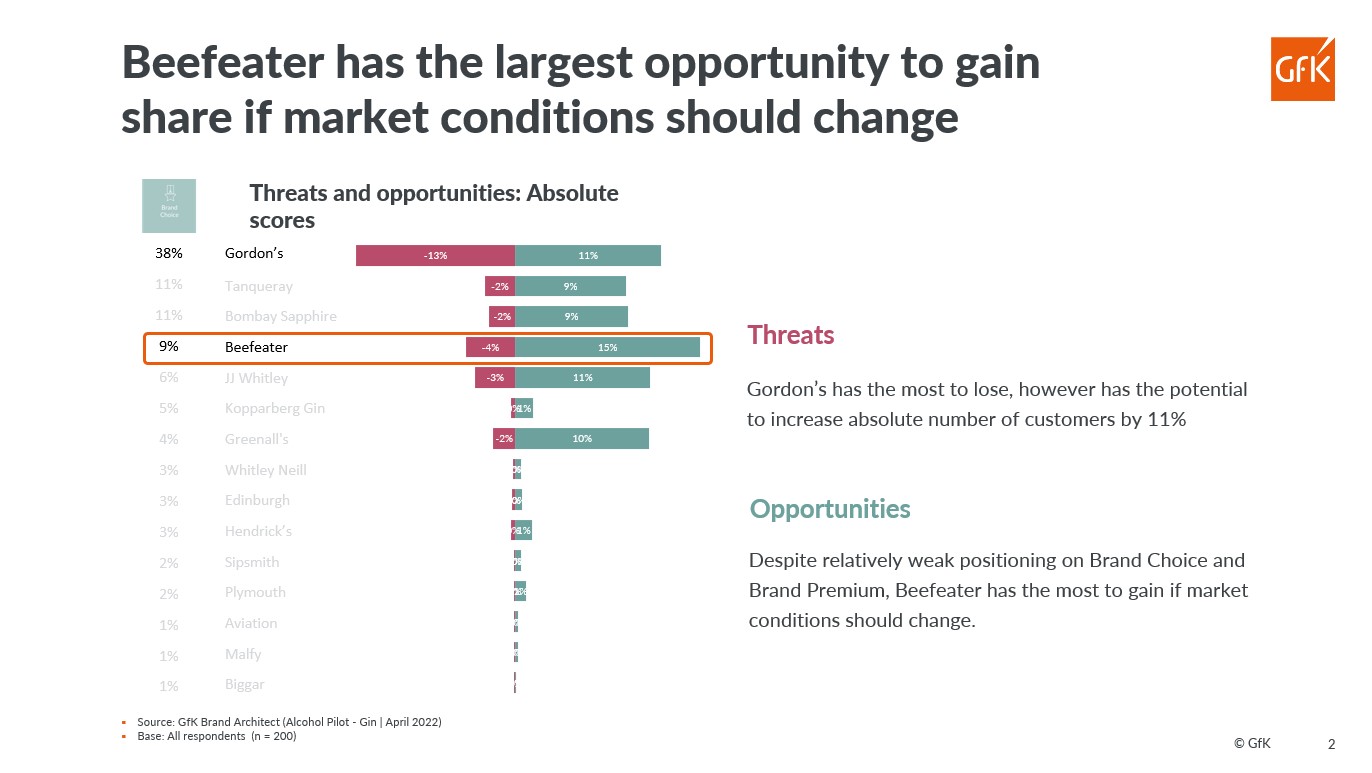 Therefore, a strategy that could be to used, is one to focus on building Brand Premium and justify a higher price for Beefeater gin, thus supporting margins and defending against competitors' price promotions.

Opportunities in a cost of living crisis
GfK's Brand Architect analysis suggests that Beefeater is chosen principally because of mass-market pricing. Brands that are more reliant on price to drive choice may be able to maximize other opportunities to drive premium in today's cost of living crisis. However, it is important to continue to drive deeper consumer connections - even in difficult times. Beefeater's recent social media campaign using podcaster JaackMaate on London's best dry gin is one example of how to build and maintain those all-important brand connections.
Today more than ever brands need to make strategic decisions that will positively impact future business performance. Whether that is to focus on increasing Choice, Premium, or both, GfK Brand Architect can help refocus brand strategy and demonstrate how to achieve it.
This article is part of a series showcasing how different elements of GfK Brand Architect can uncover opportunities in markets.
For more information: https://www.gfk.com/en-gb/products/gfk-brand-architect